Happy Book Birthday A BEAUTIFUL MESS
After months of writing, editing, re-writing, more editing, futzing with the cover, marketing (oy!), it's finally here!
I'm so excited to bring you my first Mosaic Collection offering,  A BEAUTIFUL MESS!
About A BEAUTIFUL MESS ~

Can she love the child who broke up her marriage?
Nearly four years ago, Erin Belden's happy life became a shattered mess. After her husband admitted to an affair and that a child had been conceived, he left her and their young daughter for his new family. Now, she's finally ready to put the pieces of her life together. She's set to launch her own business and even thinks her heart might be open to romance—should the right man come along.
But just when everything seems to be lining up, she receives a devastating call: her ex-husband and his wife have been killed in a car accident, and Erin is listed in their will as their daughter's legal guardian.
How can she be a mother to the child—let alone love the child—who broke up her marriage? Does she have the courage to start over yet again and turn this mess into a mosaic of beauty?
A single mother's journey from bitterness to forgiveness.
Purchase ~
What readers are saying ~
If you like realistic stories about flawed people learning to follow Jesus, then this is a book for you . . . well-written story with excellent characterisation.
—CHRISTINE DILLON, Award-winning author of Grace in Strange Disguise
A Beautiful Mess is a powerful, realistic read about the love and faithfulness of God to repair and restore the pieces of our broken lives. I loved it. I always adore all of Brenda Anderson's novels.
—JULIA WILSON, ChristianBookaholic.com
This book drew me in from the very beginning. I laughed, cried, mourned, and cheered throughout the story for the different characters. Brenda Anderson has given us a truly beautiful story of how God can take the broken pieces of human's life mistakes and sins and create a truly wonderful mosaic.
—MARGARET LAWTON, avid reader
What an incredible work of art. This story is amazing, a true forgiveness story, bringing out how God loves us and is waiting for our repentance.
—CHERYL KRAUSS, avid reader
Blog Surfing ~
Shannon Taylor Vannatter Blog – Includes giveaway.
Coming Soon from The Mosaic Collection ~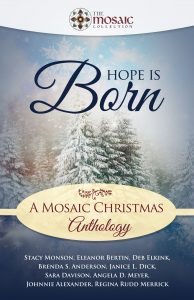 Hope is Born, A Mosaic Christmas Anthology
Nine stories.
Nine pasts to overcome.
Nine futures hang in the balance.
Christmas is supposed to be the happiest time of the year, but what happens when the past threatens to destroy the peace and joy of the season?
Short stories by Stacy Monson, Eleanor Bertin, Deb Elkink, Brenda S. Anderson, Janice L. Dick, Sara Davison, Angela D. Meyer, Johnnie Alexander, Regina Rudd Merrick
Also from The Mosaic Collection ~