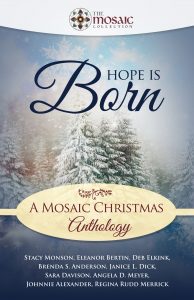 Happy Book Birthday, HOPE IS BORN!
I'm so excited to share this collaboration with all of you! In HOPE IS BORN, you'll find Nine stories. Nine pasts to overcome. Nine futures that hang in the balance.
And nine stories of Hope!
You can download the ebook now or order the paperback version today. (Of course, I'm biased, but the paperback is more than a book with hope-filled stories, it's a lovely keepsake that will look fabulous on your coffee table.)
Kindle | Paperback | Kindle Unlimited
More About Hope is Born:
Christmas is supposed to be the happiest time of the year, but what happens when the past threatens to destroy the peace and joy of the season?
When the men and women in these stories face overwhelming challenges in their lives, can hope be restored this Christmas?
Hope filled stories by Stacy Monson, Eleanor Bertin, Deb Elkink, Brenda S. Anderson, Janice L. Dick, Sara Davison, Angela D. Meyer, Johnnie Alexander, and Regina Rudd Merrick
More from The Mosaic Collection: