Happy Book Birthday, HANDS OF GRACE!
After months of writing, editing, rewriting, editing some more, Hands of Grace is available in both Kindle version and paperback! I received my paperback copy yesterday, and it is beautiful, front and back! Special thanks goes to Marion Ueckermann for designing the perfect cover for Rita and Daniel's story!
So far, readers are loving the story. Here's what one reader had to say:
There is so much to love about Brenda Anderson's Hands of Grace. A wayward daughter who gives up everything to come home and care for her mother with dementia. A cop who goes above and beyond the call of duty to provide for his "assignment." And through it all is God's grace and forgiveness. ~ Jane Mouttet
With this release, you're all invited to my Hands of Grace Release Party on Facebook at The Potter's House Books Readers Group. Join us for fun, book talk, and giveaways! I hope to see you there!

About HANDS OF GRACE ~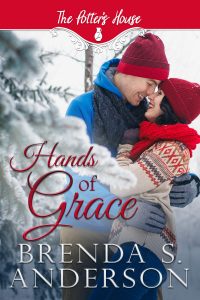 She's always looked for love in the wrong places.
He wants nothing to do with love.
Rita Dunlap has a history of looking for love in the wrong places, but this time, she's got it right. Her heart surgeon boyfriend has hinted at proposing, along with letting her sickly mother live with them once they're married.
But then she learns her boyfriend isn't a doctor at all, but a drug trafficker who's involved her in his scheme. Not only did she get love wrong, but she's unwittingly placed both her and her mother's lives in danger.
Love is the last thing on Officer Daniel Winter's mind. Twice-burned, he's locked up his heart for good. But when he goes undercover as a handyman to protect the cute and quirky Rita Dunlap, he discovers he's not only guarding her and her mother, but his heart as well.
Rita wants to trust Daniel, wants to believe his work around her house doesn't come with a price, but she'll need to let go of her past mistakes to open her heart to the future.
Purchase HANDS OF GRACE ~
Kindle | Paperback | Kindle Unlimited
About The Potter's House Books Series ~