Easter Multi-Author Book Giveaway!
Stories of Hope for Times Like These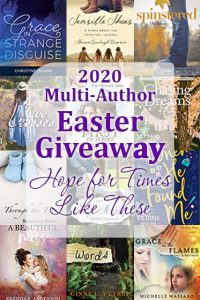 12 authors have banded together to wish you a happy Easter and to offer you stories of hope for times like these.
Do you enjoy Christian fiction that digs deep and inspires you to follow Jesus?
Then check out these books from some of my favorite authors, authors who aren't afraid to be real in their stories. You'll have a chance to win books by:
Deborah Raney | Ginny L. Ytrrup | Elizabeth Musser | Christine Dillon | Sharon Srock | Michelle Massaro | Victoria Bylin | Rosemary Hines | Heidi Chiavaroli | Sharon Garlough Brown | Sharyn Kopf | and myself!
Enter below then share your unique URL for more entries!
Contest ends April 16, 2020, 12:00 am UTC
Prizes awarded April 17, 2020, 12:00 am UTC