Celebration Time!
Pieces of Granite officially relaunches this coming Wednesday with a party you're all invited to! There'll be fun and games and book talk and prizes. On top of that, the Kindle version of Pieces of Granite is only 99¢ through this Wednesday!
Even more exciting, I'll be partying alongside writer friend, Lorna Seilstad! Watercolors, Lorna's latest historical romance comes out on October 13, but she's celebrating a pre-launch with a great pre-order price of only 99¢!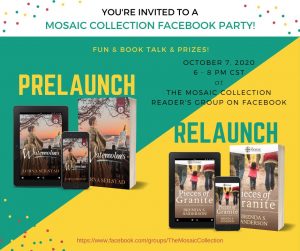 Party Info:
And that's not all!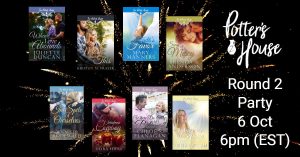 This Tuesday, I'm celebrating the end of the second round of books with fellow Potter's House Books (Two) authors. More book talk and fun and prizes!
Even if you can't join us, you can still order Kindle versions of Pieces of Granite and Watercolors for only 99¢. The price for Pieces of Granite will go up on October 8, 2020. Both will be available to read FREE for Kindle Unlimited subscribers.