My sixth and final Potter's House Book is now up for 99¢ pre-order! Check out this beautiful cover created by fellow author, Marion Ueckermann.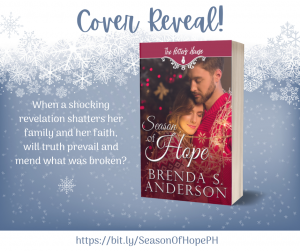 The full paperback cover is just as beautiful. Click >Here< for a fun puzzle that will reveal the entire cover!
About SEASON OF HOPE ~
When a shocking revelation shatters her family and her faith,
will truth prevail and mend what was broken?
Life is good for Ronnie Coborn.
She's newly married to a man who loves her and dotes on her daughter. A man handpicked by Ronnie's father, a popular pastor at a megachurch who's been married to her mother for forty years.
Yes, life is good.
Until a shocking revelation exposes the fact that everything in her idyllic life–her marriage, family, and faith–is based on a lie.
The book will arrive on your Kindle and at online stores on December 22. You can pre-order the ebook version now for only 99¢!
Pre-Order: Amazon