SEASON OF HOPE Now Available!
When I chose the title for this book months ago, I never would have imagined how fitting it would be for the year. I've survived cancer and covid, my husband's Alzheimer's has stabilized, and we're (mostly) settled in our new home of five months. It's been a tough year, but also a season filled with hope.
I guess that's what Ronnie, my heroine, would say about her year as well. She learns news that shatters her family and her faith, yet grows stronger with the trial.
More about Season of Hope ~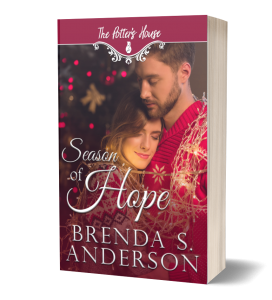 When a shocking revelation shatters her family and her faith,
will truth prevail and mend what was broken?
Life is good for Ronnie Coborn.
She's newly married to a man who loves her and dotes on her daughter. A man handpicked by Ronnie's father, a popular pastor at a megachurch who's been married to her mother for forty years.
Yes, life is good.
Until a shocking revelation exposes the fact that everything in her idyllic life—her marriage, family, and faith—is based on a lie.
You can read Season of Hope on your Kindle, and in paperback, and for FREE if you subscribe to Kindle Unlimited!