BROKEN TOGETHER Cover Reveal + Pre-Order!
Perseverance…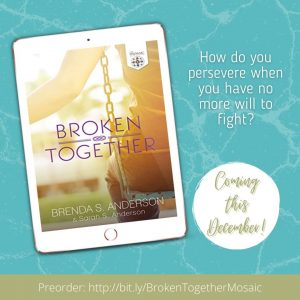 A number of years ago, I watched a news show (don't remember which) where they interviewed a woman who was working with the Innocence Project to release her wrongly-incarcerated (so she believed) husband from prison. I recall being fascinated with her journey and her relentless fight over several years.
Finally, evidence was found that proved her husband's innocence, and he was released from prison. Her persistence paid off.
Near the end of the show, the interviewer asked how they were doing as a couple now.
Her reply? "We're divorced."
I remember sitting their shell-shocked. She'd fought hard for her husband to be released, how could their marriage not endure?
As a writer, I began filling in the blanks and knew I had I had to examine that question deeper in a story. It's been many years coming to fruition, but at last the story is being written, and I'm realizing what a difficult journey the above-mentioned couple faced.
BROKEN TOGETHER will hit the shelves in December, but it's currently available for ebook pre-order: AMAZON
Here's the blurb:
How do you persevere when you have no more will to fight?
Jennifer and Chad Taylor had dreamed of opening a coffee and cocoa shop since before they said, "I do." When Chad is sent to prison for murder despite claiming innocence, that dream—along with her family—is shattered.
After years of fighting for Chad's release, Jennifer finally breaks free from her shame, anger, and hopelessness, and forges ahead with the dream the two of them once shared. With the help of their college-aged twins, she begins to move forward.
Without Chad.
When their lawyer arrives with news of evidence that may prove Chad's innocence, a strange mixture of emotions overtakes her. Does she want Chad to return home? He isn't the same man he once was, and she certainly isn't the same woman. She's worked hard to piece the remnants of their family back together, and his coming home could fracture the family once again.
It all comes down to one question. She loves her husband enough to fight for his release from prison, but does she love him enough to fight for their marriage?
"Therefore, since we are surrounded by so great a cloud of witnesses,
let us also lay aside every weight, and sin which clings so closely,
and let us run with endurance the race that is set before us…"
Hebrews 12:1 (ESV)
More from The Mosaic Collection…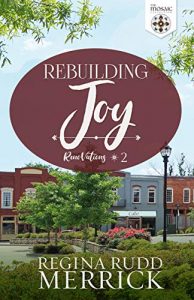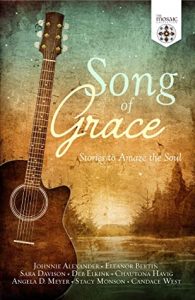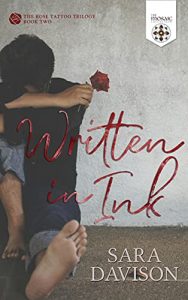 Rebuilding Joy (RenoVations #2) by Regina Rudd Merrick ~ Secret tunnels, organized crime, adorable children, and a wedding. Just another day in Clementville.
Song of Grace ~ Stories to Amaze the Soul ~ Short stories by Eleanor Bertin, Sara Davison, Deb Elkink, Chautona Havig, Angela D. Meyer, Stacy Monson, Candace West, Johnnie Alexander
Written in Ink (The Rose Tattoo Trilogy #2) by Sara Davison ~ Everything he has built his life and future on has been torn away.