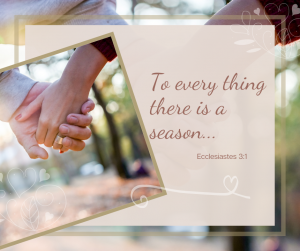 No Regrets . . .
I've written full-time for seventeen years, and over those years, my plans and goals for writing have changed dramatically. I began penning a story I could no longer contain and hoped it would be an interesting read. Too quickly, early readers, critique groups, conferences, editor/agent appointments, writers' groups, volunteering, marketing, and more all became part of a writing life that morphed from a dream to a profitable career.
But all those tasks take time away from what now takes precedence. Or perhaps it should have taken precedence all along.
With my husband's Alzheimer's, I've become keenly aware that tomorrow is not promised us. His illness is progressing slowly, for which we are very blessed and thankful, and I don't want to waste another minute of the moments we have together. When writing full-time, with all that accompanies the job, I'm unable to be present as I need to be.
So, for this coming season, however long it may be, I'm not retiring, but taking a sabbatical. Not from writing, but from the deadlines and busyness that comes with those deadlines. I'll still blog, still send out a newsletter and share Mosaic updates, but those items will no longer be my priority, and if they don't get done, it really won't matter.
This is a gift, really, turning an obstacle into an opportunity. We plan to read through the Bible together, travel—a lot!—go to baseball games, go bowling, golfing (well, I'll be riding in the cart), along with doing all the normal, everyday stuff together, just being present with each other, and I couldn't be more excited! As illnesses often do, his Alzheimer's has taught us a lesson on prioritizing the loved ones in our lives.
My most recent release, like my story seventeen years ago, was one that could no longer be contained, and offered a perfect bookend to this chapter in my writing career. With no regrets, we look forward to seeing where God leads us on the rest of our story.
"To every thing there is a season, and a time to every purpose under the heaven…" Ecclesiastes 3:1 (KJV)