The Potter's House Book, Series Ending Celebration Sale!
For the past few years, I had the privilege of writing alongside many gifted authors with The Potter's House Books. I participated in series one and two, but then life became too hectic and I, unfortunately, had to pass on the third round. Now that series is coming to an end, and we're having a huge sale to celebrate our time together!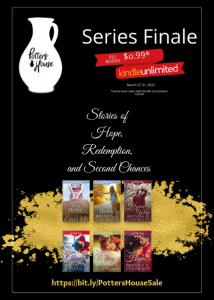 For a limited time only (March 27, 2022 – March 31, 2022) you can purchase The Potter's House Books, from any round, for only 99¢ each! You'll be able to read all for FREE in Kindle Unlimited. Don't miss the opportunity to read these stories filled with Hope, Redemption, and Second Chances!
You'll find more on each book here: https://bit.ly/PottersHouseSale
Or go straight to Amazon ~