Multi-Author * Multi-Winner Book Giveaway
Spring is (finally) breaking through winter here in Minnesota, and soon we'll be able to sit outside on the deck and read. I can't wait!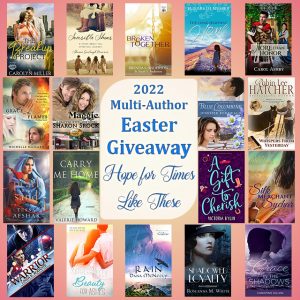 And here's the perfect way to fill your Kindle for the coming months. Eighteen Christian fiction authors, who share hope for times like these in their stories, have joined together for a huge giveaway.  One winner doesn't take all, but rather there will be multiple winners, giving you a greater chance of winning.
On top of that, many authors have freebies for signing up for their newsletter, giving you even more reading material.
Participating Authors:
Brenda S Anderson, Kathleen Neely, Carolyn Miller, Christine Dillon, Carol Ashby, Linda K Rodante, Elizabeth Musser, Sharon Srock, Sharon Garlough Brown, Roseanna White, Jennifer Rodewald, Victoria Bylin, Valerie Howard, Dana McNeely, Tessa Afshar, Cindy Williams, & Robin Lee Hatcher
To enter, follow this link:
https://www.storytellerchristine.com/blog/easter-2022-multi-author-giveaway/.