Where Healing Starts (Applewood Hill #2) by Angela D. Meyer
The Novel Way – Blog Tours with The Mosaic Collection
About the Book: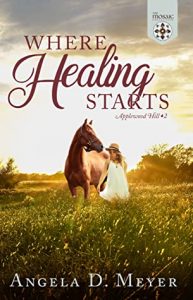 Title : Where Healing Starts (Applewood Hill book #2) by Angela D. Meyer
Genre: Christian Fiction, Women's Fiction, Contemporary Fiction, Family Drama
Release Date: May 11
Joanna and Blake Hannigan grew up in an angry home and made an all-for-one pact – them against the world – in order to survive. Now that pact may keep them from what they each long for.
While doing community service for shoplifting, Joanna's walls begin to come down. She wonders if she does have something of value inside of her, but still full of bitterness, she can't get off the path to self-destruction.
Will a near death experience put her on the road to redemption?
Blake refuses to accept the consequences for putting his brother-in-law in the hospital. He runs from the law and does the unthinkable.
In the face of impending disaster, will Blake's choices lead to healing?
Unless the siblings realize their pact can't save them, they may not find the One who can.
About Angela D. Meyer
Angela D. Meyer writes fiction that showcases God's ability to redeem and restore the brokenness in our lives. Now that her two children are grown, she spends her life writing instead of homeschooling, stays active at church, and is plotting what to do with the rest of her life. She enjoys sunrises and sunsets, hanging out with friends, a good laugh, and reading. Someday, she would love to vacation by the ocean.
Learn more about Angela's books on her website. Sign up for her newsletter to be among the first to hear about her new book releases.
Character Interview with Blake Hannigan
Blake is the second oldest child in the Hannigan family. To get away from his dad, he left home directly after high school and joined the Marines even though it meant leaving behind his one true love, Alita. Always tough, he pushes away those closest to him, appearing not to care. His sister Joanna is the only one he never pushed away. Until now. Read on to discover more about Blake Hannigan.
Blake, who is your favorite sibling? 
Blake: Are you kidding? They all meddle. No one. I'm even getting tired of Joanna these days.
Do you have any hobbies? 
Blake: (He snorts at the question) Don't know if you would call them hobbies, but I hunt and ride my motorcycle.
Why did you join the Marines? 
What do you think? To get away from home. Are we done now?
Just one more question. Tell us about a pet peeve that you have. 
Blake: (He stares me down.) Interviews. I'm out of here. (Blake stomps off to his bike.)
Okay… can't say I enjoyed that peek inside Blake's head, but there's more than meets the eye when it comes to Blake. Come along on his journey in Where Healing Starts and discover what's really going on with him.
Don't forget to check out the other stops on the tour! Each stop has unique content to read!
Purchase Where Healing Starts:
https://bit.ly/MosaicHealingStarts
 Connect with Angela:
Website | Instagram | Facebook | Goodreads | BookBub | Subscribe