It's time once again for the Hope for Times Like These book giveaway! 16 authors are participating–each giving away two ebooks–and 20 winners will be chosen!
To enter, go here: Hope for Times Like These Multi-Author Book Giveaway
Participating authors include: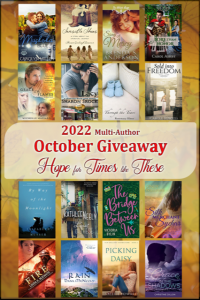 Michelle Massaro
Brenda S Anderson
Kathleen Neely
Carolyn Miller
Christine Dillon
Carol Ashby
Linda K Rodante
Elizabeth Musser
Sharon Srock
Sharon Garlough Brown
Victoria Bylin
Valerie Howard
Dana McNeely
Cindy Williams
Carole Towriss
Rosemary Hines
*Contest ends October 17, 2022 @11:45 UTC.
https://www.storytellerchristine.com/blog/october-2022-hope-for-times-like-these-giveaway/