I've been taking a break on the blog front–hopefully that will change soon–but I had to pass on this exciting news. The latest book from The Mosaic Collection is now available!
Dancing in the Rain: Stories to Shelter the Soul features five authors telling five stories to inspire and uplift your soul.
About the book: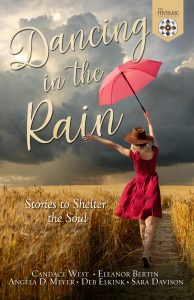 Wayward wandering exposes the characters in these stories to storms created by their own or others' choices.
Candace West – McDonald's Farm
Eleanor Bertin – Who Sends the Rain?
Angela D. Meyer – Rekindling Her Dream
Deb Elkink – Clanging Symbols
Sara Davison – The Poppy
As they deal with the consequences, will they seek shelter in God, finding healing and redemption in the only One who can provide it?
Purchase:
Stay tuned for an upcoming giveaway! Will be announced in June.
Also coming in 2023 from The Mosaic Collection, books by:
Milla Holt (2!)
Sara Davison
Chautona Havig
Christmas Anthology.