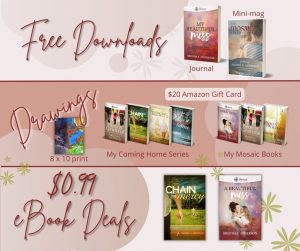 In April of 2014, Chain of Mercy–my debut novel–was released through a small press. As any author will tell you, we have hopes and dreams for each book released, that they will reach the right audience and that the story will resonate with readers. Making bestseller lists is a dream! But, according to Publisher's Weekly, the average sales per book in America is 500 copies. A self-published book averages 250 sales (see WordsRated), so landing on a bestseller list is highly unlikely.
Still, when first starting, I would have been thrilled to sell 500 books. And now, nine years later, only two of my releases linger below the 500 sales mark, nine have sold over a thousand, and three have topped the 2k mark.
Reviews and ratings accompany those sales, so an author holds their breath as their *baby* goes out to the world awaiting those first reviews, which tend to trickle in. A quick survey of my books shows that six percent of my readers will leave a written review on Amazon, while 25 – 50 percent of readers will leave at least a rating. (My more recent releases have more ratings as the rating system was only recently implemented by Amazon.)
So when two of my books, Chain of Mercy and A Beautiful Mess, eclipsed 1000 in ratings/reviews on Amazon, I figured that was worth a celebration! And that means a lot of goodies for my readers as a Thank You for reading, rating, and reviewing!
Here are the details:
Freebies: All who fill out the KingSumo form below will be emailed digital copies of My Beautiful Mess, a companion journal to A Beautiful Mess, and a mini-mag with a behind-the-scenes look at A Beautiful Mess. The journal and mini-mag will be emailed via BookFunnel following the celebration.
99¢ eBook Sale: From June 16, 2023 – June 21, 2023, both Chain of Mercy and A Beautiful Mess (ebooks only) are only 99¢ each! (US & UK only)
Giveaways: A drawing will be held for four separate prizes, with a possible fifth prize! (Due to shipping costs, book and print prizes will be awarded United States residents–with US mailing addresses–only, but I've added a separate prize for international entrants.)
My Mosaic Collection paperbacks: A Beautiful Mess, Pieces of Granite, and Broken Together (US entrants only)
My Coming Home Series paperbacks: Pieces of Granite (a Coming Home series prequel), Chain of Mercy, Memory Box Secrets, and Hungry for Home (US entrants only)
An 8 x 10 print of Pearl, artwork commissioned from Mary DeMuth that depicts a painting created by a character in A Beautiful Mess. (US only)
A $20 Amazon Gift Card (for international readers only)
Potential bonus prize: As it currently stands, Chain of Mercy has 1301 ratings/reviews and A Beautiful Mess has 1095. If A Beautiful Mess reaches 1100 ratings/reviews by June 21, a second entrant will also win my Mosaic Collection paperbacks.