The Mosaic Collection is thrilled to bring you it's first anthology release as an official publisher! And they're doing it big with eight authors sharing seasonal stories of family, forgiveness, & reconciliation that you won't want to miss!
About A THRILL IN THE AIR: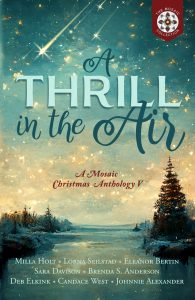 Cocoa and carols set the mood of the season, but what lurks beneath the festivities?
Christmastime ties a pretty bow on relationships as flimsy as wrapping paper while torn hearts call out for reconciliation.
The Prodigal's Feast by Milla Holt
A Merrytime Cruise by Lorna Seilstad
Meg and the E-Monster by Eleanor Bertin
The Other Way by Sara Davison
The Home for Christmas Challenge by Brenda S. Anderson
Scrabbling by Deb Elkink
The Angel Voices by Candace West
Christmas Comes to Springlight by Johnnie Alexander
Will the characters in these stories find peace this holiday season, not only with those they love but within their own hearts?
Purchase:
New this Fall from The Mosaic Collection:

Amid the Ashes by Milla Holt – Now Available!
A Thrill in the Air – Now Available!
The Color of Sky and Stone by Sara Davison – Available for Pre-Order!
Clock Tower Bound by Chautona Havig – Coming Soon!