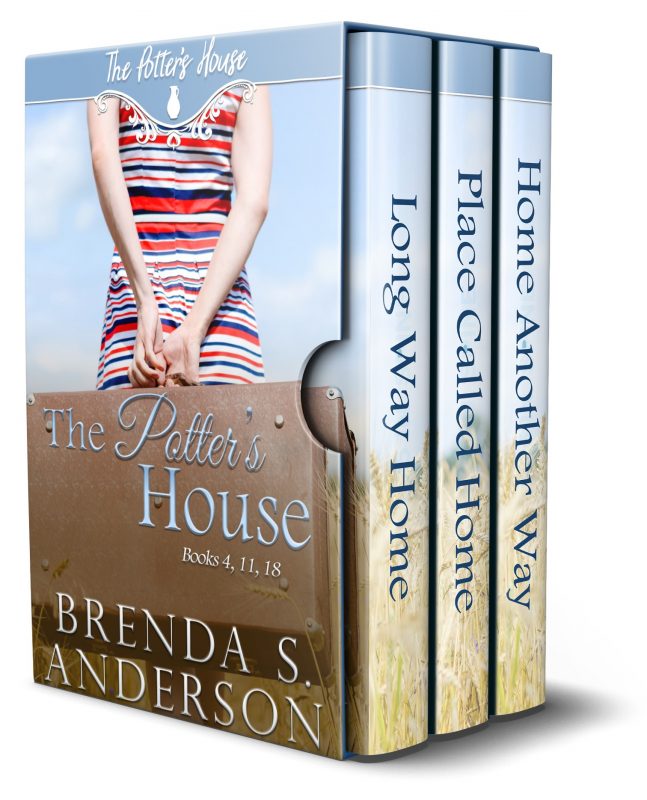 Flawed and broken people who desperately need the Potter's hand molding their lives.
A woman on a cross-country road trip with the man who once bullied her, a woman seeking a stable place to call home, and a couple learning what it really means to serve. All flawed and broken people who desperately need the Potter's hand molding their lives.
Order Now!
About the Book

The Potter's House book 4, 11, and 18 are stories of hope, redemption, and second chances. Each book in this set is written by Brenda S. Anderson
566 pages of inspired reading at a discounted price!
LONG WAY HOME
Having overcome the crippling insecurities of childhood bullying, Lauren Bauman is eager to start her new job 1,000 miles away, and road-tripping across the country with her brother Nate and his new friend seems to be the perfect way to celebrate the move. But her confidence is shaken when she meets Nate's friend—the kid who'd bullied her years before, trapping her in a decade-long shell of self-doubt.
For Jet Wurm, losing his job and getting kicked out of his apartment were the best things that ever happened to him. Thanks to the friend who rescued him, he's finally shedding the loser label he'd worn for years. Nate even invited him along on a cross-country road trip with his sister, and Jet couldn't be more excited. But then he meets Lauren, and her fearful reaction tells him they must have met before. Where, he can't recall, but he has no doubt he'd somehow hurt her—like he'd hurt so many others in his past. And now he's stuck on a six-day road trip with a woman who obviously deplores him.
Though Jet is clearly not the same person who'd bullied her years before, Lauren still struggles to forgive him. But if she doesn't find the courage to forgive, will that convince Ryan he's as worthless as he'd always been taught to believe? Or will they learn that real love keeps no record of wrongs?
PLACE CALLED HOME
All Tessa Chanson ever wanted was a stable place to call home. She thought she'd found that when she moved in with Jared—until his home became her prison. When his control escalates, the only answer is to escape—an escape that's hampered when she falls and fractures her ankle.
While building his graphic design company, Nate Brooks is focused on the future he's dreamed of: traveling around the country from the comfort of his renovated school bus. But when he picks up a wounded, mysterious hitchhiker, those well-laid plans take a backseat to protecting her.
Hobbled by her injury, Tessa fears she'll never find freedom. Or has she found it with the family who graciously opens their home to her? And will Nate's protection put his family—and his heart—at risk?
HOME ANOTHER WAY
Realtor Dani Chamberlain's passion for bringing attention to the homeless, regardless of the method, has once again backfired. Along with being sentenced one hundred hours of community service feeding the homeless, she's also being kicked out of her home—by her own mother! She has less than two months to find a new place, or she'll be living on the street herself.
Once a homeless teen, Austin Lang is now a school teacher and coordinator of the Family Table Meal for the homeless in his community. And he can't wait to purchase his own home. When Dani Chamberlain breezes into the Family Table Meal in heels and with an attitude, his life and plans are upended.
Dani is instantly drawn to the quiet, selfless man who puts his faith in action, and Austin can't stop his attraction to the passionate woman who dives in to help people without thought to her own safety.
Other Books in "The Potter's House Books"
Disclosure of Material Connection: Some of the links in the page above are "affiliate links." This means if you click on the link and purchase the item, I will receive an affiliate commission. I am disclosing this in accordance with the Federal Trade Commission's
16 CFR, Part 255
: "Guides Concerning the Use of Endorsements and Testimonials in Advertising."