September is typically a crazy month for me. The kids go back to school, my husband has two conferences, I have one conference, we celebrate a handful of birthdays and anniversaries… Somewhere in there, I have to find time to read as so many good books are coming out. So many, in fact, that I need two weeks to talk about them all.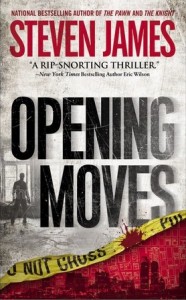 OPENING MOVES, Bowers Files Series Prequel (Signet Select) by Steven James
Steven James has become my favorite author of thrillers/suspense/mystery. (I know, purists will tell me those genre's are not at all the same.) He always weaves together a head-spinning number of threads, each of which is vital to the plot. Each of his novels tell a page-turning story. In Patrick Bowers, James has created a character that isn't always likable. I think Bowers is quite arrogant, as is his step-daughter, but I still find myself rooting for them. That takes skill.
Needless to say, I can't wait to read this prequel!
Story Description:
   FBI agent Patrick Bowers' first major murder investigation begins in Milwaukee, 1995. In a city still reeling from the crimes of Jeffrey Dahmer, a woman's body is found with the lungs removed. Local cops think a Dahmer copycat is on the loose. But Patrick Bowers, working as a homicide detective for the Milwaukee Police Department, sees from the timing and location of the crime that this is not a copycat at all, but a killer with an entirely different agenda.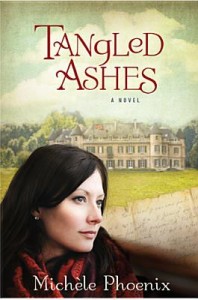 TANGLED ASHES (Tyndale House) by Michele Phoenix
I love supporting debut authors, so I'm thrilled to discover this novel by Michele Phoenix. It sounds like a completely different concept than I've read before which makes it even more intriguing.
Story Description:
   When Marshall Becker arrives in Lamorlaye, France, to begin the massive renovation of a Renaissance-era castle, he unearths a dark World War II history few in the village remember. The project that was meant to provide an escape for Becker instead becomes a gripping glimpse into the human drama that unfolded during the Nazi occupation and seems to live on in midnight disturbances and bizarre acts of vandalism.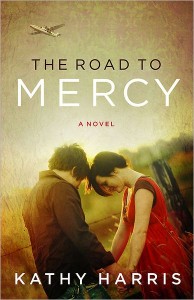 THE ROAD TO MERCY (Abingdon Press) by Kathy Harris
Another debut novelist! Kathy Harris has published before, but always with non-fiction. It sounds like we'll need tissues with this one.
Story Description:
   Josh Harrison, a contemporary Christian singer, and his wife Bethany face a difficult decision that also tests their faith. A rupture in Beth's carotid artery leaves her on the brink of death even as she's pregnant with their first child. While Dr. Ben Abrams urges her to terminate the pregnancy to save her own life, she and Josh step out on faith and decide to carry the baby to full term.

During the next few months, Josh struggles with his faith, Beth hides a secret that may destroy their marriage. She also discovers a decades-old connection to Dr. Abrams that could change his life forever.
Spotlighting Next Week:
BORDERS OF THE HEART by Chris Fabry
THE SONS OF JUDE by Brandt Dodson
STILL LIFE IN SHADOWS by Alice Wisler