*I'm giving away one copy of Dani Pettrey's Submerged.
Read below for contest rules*
For those of us who prefer contemporary works, January's offerings are very slim. I've only one new release on my to-read list, but I'm certain that one novel is a winner.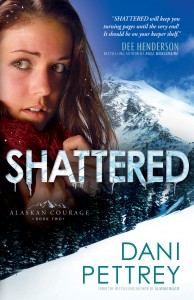 SHATTERED (Alaskan Courage Series, #2) by Dani Pettrey (Bethany House, 2013) – The sophomore work following Dani Pettrey's popular Submerged brings us back to Alaska, rejoining the McKenna family. If you enjoy romantic suspense, check out this series.
Shattered Story Description:
Piper McKenna couldn't be more thrilled that her prodigal brother, Reef, has returned to Yancey, Alaska, after five years. But her happiness is short-lived when Reef appears at her house covered in blood. A fellow snowboarder has been killed–but despite the evidence, Reef swears he's innocent. And Piper believes him.

Deputy Landon Grainger loves the McKennas like family, but he's also sworn to find the truth. Piper is frustrated with his need for facts over faith, but he knows those closest to you have the power to deceive you the most. With his sheriff pushing for a quick conviction, some unexpected leads complicate the investigation, and pursuing the truth may mean risking Landon's career.

With Piper waging her own search, the two head deep into Canada's rugged backcountry–and unexpected complications. Not only does their long friendship seem to be turning into something more, but this dangerous case is becoming deadlier with each step.
*** Contest Info ***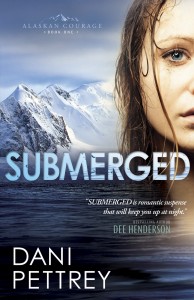 If you'd like to win a copy of Submerged by Dani Pettrey, tell me in the comments below what book you're reading right now. I'm reading A Rush of Wings by Kristen Heitzmann. This contest ends Monday, January 21, 2013 at 11:59 p.m. (CST). I will post the winner on Tuesday, January 22, 2013. The contest is open to residents of the contiguous United States.
To find more opportunites to win books, check out