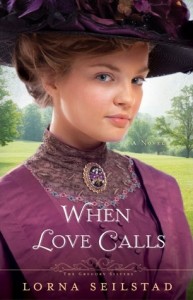 WHEN LOVE CALLS, The Gregory Sisters Series #1 (Revell) by Lorna Seilstad – I'm so very excited about this book! Received my copy in the mail yesterday. 🙂 Don't you love the cover? It fits the story perfectly.
As Lorna's critique partner (& friend), I have the privilege of reading her books before most of the world, so I can honestly say that Lorna just keeps getting better. When Love Calls is sweet, fun, and heart-warming, the perfect read for this cool spring.
This novel doesn't officially release until the first of May, but you can pre-order it at Amazon, Christianbook.com, and all the usual places. Plus, Lorna is offering a few different opportunities to win books. If you head over to Inkspirational Messages right now, she's offering an autographed copy of When Love Calls plus a $10 Starbucks gift card to one lucky commenter during this next two weeks. (See official rules at Inkspirational Messages). Also, at Lorna Seilstad's Fan Page on Facebook, she's having a Likefest. When she reaches 800 Likes, her publisher (Revell) will be giving away a complete set of Lorna's books to (1) person who Likes her page.
Lorna Seilstad will be visiting this blog the first part of May, and we'll be offering a giveaway here as well.
About When Love Calls:
Hannah Gregory is good at many things, but that list doesn't include following rules. So when she is forced to apply for a job as a telephone switchboard operator to support her two sisters, she knows it won't be easy. "Hello Girls" must conduct themselves according to strict–and often bewildering–rules. No talking to the other girls. No chatting with callers. No blowing your nose without first raising your hand. And absolutely no consorting with gentlemen while in training.

Meanwhile, young lawyer Lincoln Cole finds himself in the unfortunate position of having to enforce the bank's eviction of the three Gregory girls from their parents' home. He tries to soften the blow by supporting them in small ways as they settle into another home. But fiery Hannah refuses his overtures and insists on paying back every cent of his charity.

When one of Hannah's friends finds himself on the wrong side of a jail cell, Hannah is forced to look to Lincoln for help. Will it be her chance to return to her dreams of studying law? And could she be falling in love?
With historic details that bring to life the exciting first decade of the twentieth century, Lorna Seilstad weaves a charming tale of camaraderie and companionship that blossoms into love. Readers will get lost in this sweet romance and will eagerly look forward to championing each sister's dreams.