While out and about yesterday, I happened to stop in our local bookstore and was very surprised and happy to find new releases I've been waiting months to read. It's almost like finding gold. 🙂 (I also helped myself to a little shelf-rearranging to make sure the covers were displayed, not just the spine.)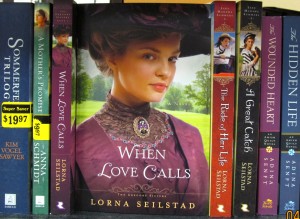 WHEN LOVE CALLS, Gregory Sisters Series #1 (Revell) by Lorna Seilstad
You can read my Tuesday blog post about this book <here>. Also be sure to  hurry over to Lorna's Facebook page. She's having a Likefest. Once she reaches 800 likes, her publisher is offering a set of books FREE to one person who likes her page.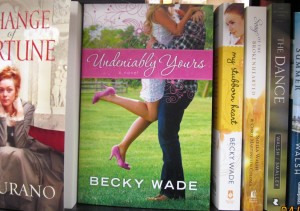 UNDENIABLY YOURS (Bethany House) by Becky Wade
This book doesn't officially release until May 1st, so seeing it on the shelves was pure delight. I absolutely loved Becky's CBA debut My Stubborn Heart and can't wait to read this one.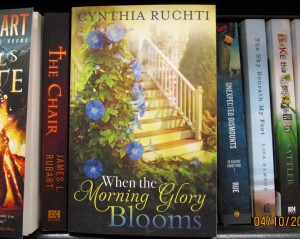 WHEN THE MORNING GLORY BLOOMS (Abingdon Press) by Cynthia Ruchti
I thoroughly enjoyed Cynthia's debut, They Almost Always Come Home. She has the kind of literary voice I dream of reading (and writing). For three years I've anxiously awaited her next novel, and now I finally have it.
Have you recently discovered any gold at your local bookseller?