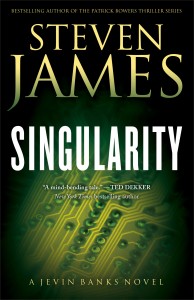 SINGULARITY, The Jevin Banks Experience Book #2 by Steven James (Revell) – As I mentioned in my What Books are on Your Nightstand? post, I've already read Singularity, so this is more of a Novel Recommendation than Anticipation. Steven James continues to put out intelligent, gripping, frightening, page-turning stories. In my opinion, he's one of the best authors of suspense / thriller novels out there.
Story Description:
When his friend is murdered, illusionist Jevin Banks is determined to find out what really happened. Drawn into a web of conspiracy and top-secret research on human consciousness, Jevin won't stop digging until the truth is revealed. Soon he uncovers a dark secret-one that could change the very fabric of human life on the planet.
STONES FOR BREAD by Christa Parrish (Thomas Nelson) – Another favorite author, yet decidedly different from Steven James. Christa Parrish writes literary, relational dramas that touch your heart and make you think. Stones for Bread looks like another winner.
Story Description:
For Liesl, artisan bread-making is more than a livelihood—it's the only connection she has with her mother, who committed suicide. Liesl's quiet life changes when she meets the bear-of-a-man Seamus, a cooking show features her Vermont bakery, and a woman calls claiming to be her half-sister. Is everything she believes about her mother untrue?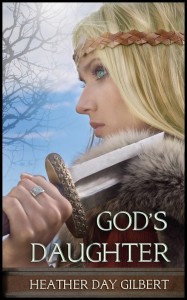 GOD'S DAUGHTER by Heather Day Gilbert – This novel didn't fit into the CBA's narrow time-period parameters. With that, and with claims that the story is grittier and more realistic than what the typical Christian reader currently wants, Heather Day Gilbert chose to self-publish this novel. It's for those very same reasons that I'm intrigued by it.
Story Description:
One Viking woman. One God. One legendary journey to the New World.
In the tenth century, when pagan holy women rule the Viking lands, Gudrid turns her back on her training as a seeress to embrace Christianity. Clinging to her faith, she joins her husband, Finn, on a voyage to North America.
But even as Gudrid faces down murderous crewmen, raging sickness, and hostile natives, she realizes her greatest enemy is herself–and the secrets she hides might just tear her marriage apart.
Almost five centuries before Columbus, Viking women sailed to North America with their husbands. God's Daughter, Book One in the Vikings of the New World Saga, offers an expansive yet intimate look into the world of Gudrid Thorbjarnardottir–daughter-in-law of Eirik the Red, and the first documented European woman to have a child in North America.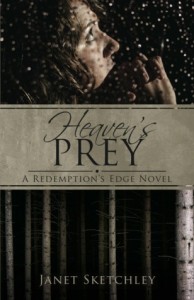 HEAVEN'S PREY (Redemption's Edge) by Janet Sketchley (Choose NOW Publishing) – Heaven's Prey is one of the first novels to be released from the newly established publishing company, Choose NOW Publishing. This publisher intrigues me as they specifically look for issue-driven novels, something most of the CBA steers away from. I can't wait to see what else comes out from them!
Story Description:
A grieving woman is abducted by a serial killer—and it may be the answer to her prayers.
Despite her husband's objections, 40-something Ruth Warner finds healing through prayer for Harry Silver, the serial killer who brutally raped and murdered her niece. When a kidnapping-gone-wrong pegs her as his next victim, Harry claims that the chance to destroy the one person who'd pray for him proves God can't—or won't—look after His own. Can Ruth's faith sustain her to the end—whatever the cost?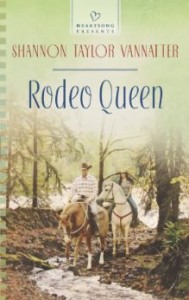 RODEO QUEEN by Shannon Taylor Vannatter – I'm so very excited for my friend and critique partner who's releasing her 5th title in her Texas rodeo series! If you love romance and cowboys (and who doesn't?) you will love this series.
Story Description:
Until she starts receiving threatening letters from a stalker. The good news is, the Texas Ranger assigned to her case is none other than her former sweetheart Mitch Warren-the man who chose his career over love.
Mitch vows to focus on protecting the woman he's never forgotten. But Caitlyn stirs up memories best left in the past. When Mitch insists on hiding Caitlyn away on his family's San Antonio ranch, will he keep things professional or seek out a second chance?