Now, don't get me wrong. Just because I recommend these books for that special man in your life, doesn't mean they won't appeal to women. Personally, I tend to gravitate toward the male author voice, so these novels instantly catch my eye.
So, ladies, go ahead and purchase these books for your guy, but I give you permission to read them first.
(And don't forget to stop by next week as I'll have a few more recommendations!)
Legal Fiction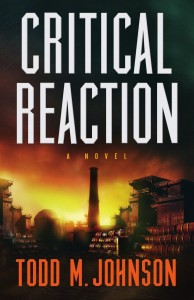 CRITICAL REACTION by Todd M. Johnson (Bethany House)
After decades of turning out plutonium for the arms race, the Hanford Nuclear Facility has long been shuttered, though its deadly legacy cannot be fully contained. The men who guard the facility from sabotage or monitor its buildings for radiation leaks are told the risks are under control. They believe it, until the worst happens: a thunderous explosion in the dead of night.
Two workers, lifer Poppy Martin and new hire Kieran Mullaney, believe themselves lucky to survive the blast. But as the debris is cleared, they discover their safety is not assured. Dead ends and closed doors halt their efforts to discover what really happened–and what radiation may have poisoned them. When stalling and threats force them into the hands of experienced trial lawyer Ryan Hart, they learn that theirs is no ordinary lawsuit. There is something still hidden in the desert of eastern Washington, and someone is willing to go to extreme lengths to make sure it never sees the light of day.
Mystery / Suspense / Thriller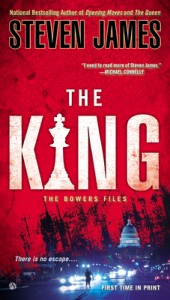 THE KING (The Patrick Bowers Files, #6) by Steven James (Signet Select)
Settling into a new post at the FBI Academy, Patrick and his fiancie Lien-hua Jiang are planning their future together with his stepdaughter Tessa. But just when his life seems normal, a demon from the past returns to draw him down a dark road he hoped had closed forever. Forced into a desperate hunt to save the two women he loves most, Patrick is in a race against time to stop an international conspiracy from becoming the most widespread act of terrorism in U.S. history.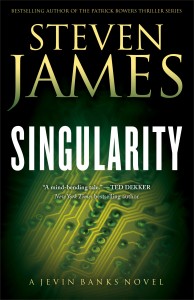 SINGULARITY (Jevin Banks series #2) by Steven James (Revell)
When his friend is murdered, illusionist Jevin Banks is determined to find out what really happened. Drawn into a web of conspiracy and top-secret research on human consciousness, Jevin won't stop digging until the truth is revealed. Soon he uncovers a dark secret-one that could change the very fabric of human life on the planet.