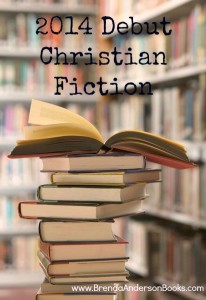 When I decided to do this series just a few days ago, I imagined it might go three, maybe four posts. But I put out a call on the ACFW (American Christian Fiction Writers) loop, and minutes later my email box was flooded with replies from debut Christian fiction authors. As of right now, this series will run through the end of September, posting every Tuesday and Thursday (with one little break for Laura Frantz's next release, Love's Fortune). I think this offers great hope for those longing to break into the publishing world. It can be done!
These posts will include books by major publishers, small publishers, indie authors, CBA and ABA publishers. The key factor is that the book falls under the Christian fiction label.
I've also created a 2014 Debut Christian list on Goodreads (>here<), so if you have a favorite debut, add your vote. I haven't had time to list all the debut books on Goodreads yet, so feel free to add it.
~*~*~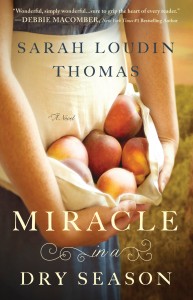 MIRACLE IN A DRY SEASON
(Appalachian Blessings, #1)
by Sarah Loudin Thomas
Bethany House
In a Drought, It's the Darkest Cloud That Brings Hope
It's 1954 and Perla Long's arrival in the sleepy town of Wise, West Virginia, was supposed to go unnoticed. She just wants a quiet, safe place for her and her daughter, Sadie, where the mistakes of her past can stay hidden. But then drought comes to Wise, and Perla is pulled into the turmoil of a town desperately in need of a miracle.
Casewell Phillips has resigned himself to life as a bachelor…until he meets Perla. She's everything he's sought in a woman, but he can't get past the sense that she's hiding something. As the drought worsens, Perla's unique gift divides the town in two, bringing both gratitude and condemnation, and placing the pair in the middle of a storm of anger and forgiveness, fear and faith.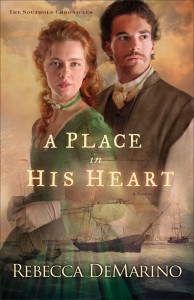 A PLACE IN HIS HEART
(The Southold Chronicles, #1)by Rebecca DeMarino
Revell
Anglican Mary Langton longs to marry for love. Puritan Barnabas Horton still grieves the loss of his beloved wife, but he knows his two young sons need a mother. And yet these two very different people with very different expectations will take a leap of faith, wed, and then embark on a life-changing journey across the ocean to the Colonies. Along the way, each must learn to live in harmony, to wait on God, and to recognize true love where they least expect to find it.
This heartfelt tale of love and devotion is based on debut author Rebecca DeMarino's own ancestors, who came to Long Island in the mid-1600s to establish a life–and a legacy–in the New World.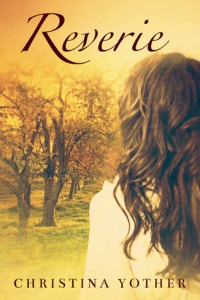 REVERIE
(Hollow Hearts #1)
by Christina Yother
Orphaned at a young age Hetty is convinced that her circumstances make her unworthy of having a family of her own. When a job opportunity as a housekeeper presents itself Hetty accepts believing that working for Isaac Wheeler and his family is a welcome, if not temporary, surrogate for her own family dreams. As she's faced with learning to trust she discovers that wanting a family and building a family are two very different things. Will she learn to see herself as worthy of God's gifts? Or will she return to the solitary existence that defined so much of her life?
Isaac Wheeler, successful furniture maker and dishonorable bachelor, finds Hetty's presence in his home to be disturbing and a haunting reminder of his past sins. As he struggles with his growing and unwanted feelings, he can't help but torment himself with mistakes from his past. Can he navigate the family tensions, infidelity, and sudden choices destined to keep them apart? Or can Isaac endure each struggle and seek forgiveness before discovering what truly makes a family?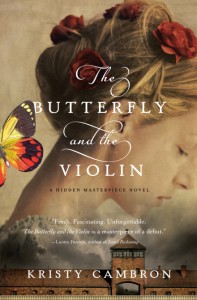 THE BUTTERFLY AND THE VIOLIN
(Hidden Masterpiece, #1)by Kristy Cambron
Thomas Nelson
A Mysterious painting breathes hope and beauty into the darkest corners of Auschwitz—and the loneliest hearts of Manhattan.
Manhattan art dealer Sera James watched her world crumble at the altar two years ago, and her heart is still fragile. Her desire for distraction reignites a passion for a mysterious portrait she first saw as a young girl—a painting of a young violinist with piercing blue eyes.
In her search for the painting, Sera crosses paths with William Hanover—the grandson of a wealthy California real estate mogul—who may be the key to uncovering the hidden masterpiece. Together Sera and William slowly unravel the story behind the painting's subject: Austrian violinist Adele Von Bron.
A darling of the Austrian aristocracy of 1942, talented violinist, and daughter to a high-ranking member of the Third Reich, Adele risks everything when she begins smuggling Jews out of Vienna. In a heartbeat, her life of prosperity and privilege dissolves into a world of starvation and barbed wire.
As Sera untangles the secrets behind the painting, she finds beauty in the most unlikely of places: the grim camps of Auschwitz and the inner recesses of her own troubled heart.
(For Part 1, Click >here<)