Please join me in celebrating the birth of book number three! I'm serving virtual cake, bars, mixed nuts, & punch and it's all calorie free!
And for one lucky commenter, I'm giving away the first three books in my Coming Home Series:
Pieces of Granite (Prequel)
Chain of Mercy (Book 1)
Memory Box Secrets (Book 2)
So fill your plate and have a seat, then in the comments below, let me know what flavor of virtual cake you're eating. (FYI – My first slice is chocolate with fudge frosting.)
Thank you for celebrating with me!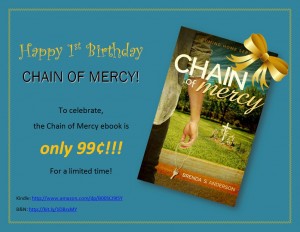 Also, if you haven't read Chain of Mercy yet, it's still only 99¢ for your Nook or Kindle. This sale ends soon, so get your copy now!
Kindle | Nook
---
Giveaway details:
To enter, in the comments below tell me what flavor virtual cake you're eating. Contest open to continental US residents only.
Contest ends Sunday, April 26, 2015 at 11:59 CST. Winner will be chosen via Random.org and will be announced on Monday, April 27, 2015.