***Book Giveaway***
See details below
---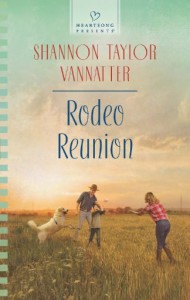 On Tuesday you got to know author Shannon Taylor Vannatter's Favorite Things, and today you get to meet Slade Walker and Raquel Marris, the hero and heroine from Shannon's latest release, Rodeo Reunion. I'm certain this interview will compel you to hurry over to your bookstore and pick up Shannon's books.
Raquel and Slade, are you open to your own romance?
Raquel: I know my deceased husband wanted me to marry again and I know my son needs a father figure, but knowing and acting on it are two different things. I figure if God wants me to marry again, he'll lead me in the right direction.
Slade: I used to love the travel involved in being a rodeo chaplain on the Texas circuit. But lately, I'll admit I've been lonely. I'd love to settle down, get married, have a family. But I can't settle down and travel the circuit, so I'm waiting on God to help me figure it out.
What's the number one quality you'd require in a mate?
Raquel: He'd have to be a committed Christian.
Slade: She'd have to be a committed Christian.
What's the number two quality you'd require in a mate?
Raquel: He'd have to be home every night, have a safe job, and love my son as much as I do. Since my first husband, a Texas Ranger, died three years ago, I'm ready for safe.
Slade: She'd have to support my ministry. And my ministry includes riding broncs. Getting dirty right along with the cowboys helps me to get on the same page with them and gives me the opportunity to witness to them.
Where is the best place you can think of to find a mate?
Raquel: Church
Slade: Church
Where is the worst place you can think of to find a mate?
Raquel: Anywhere dangerous.
Slade: A bar.
What type of character traits are you attracted to?
Raquel: Stability, loyalty, and good with kids.
Slade: Someone loyal since I never knew my dad and my mom split when I was young.
What's the one habit or lifestyle that would make you run the other way?
Raquel: Anything dangerous.
Slade: A woman focused on everything other than her child.
---
RODEO REUNION blurb~
RAQUEL MARRIS NEEDS A MAN WHO'LL STAY PUT 
And Slade Walker's not a likely candidate. Even if the former major league pitcher just agreed to coach her son's little league team. The single mom can't risk everything on a bronc-riding chaplain who's only passing through Raquel's small Texas town. 
Slade is taking a hiatus from the rodeo circuit to meet the sister he never knew he had. But the pretty widowed nurse next door is making him think twice about hitting the road again. He can't turn his back on the cowboys who need him, but Raquel and her boy need him, too. Can Slade fulfill his calling and finally find a place to hang his hat?
Purchase RODEO REUNION~
Amazon | CBD | B&N | Harlequin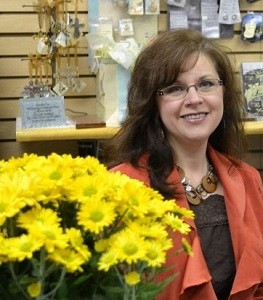 About Shannon~
Award winning, central Arkansas author, Shannon Taylor Vannatter is a stay-at-home mom/pastor's wife. She lives in a town with a population of around 100, if you count a few cows and once climbed a mountain wearing gold wedge-heeled sandals which became known as her hiking boots.
She has eleven published titles and is contracted for four more. Her books are available at Christianbook.com, Barnes and Noble, Amazon, Harlequin, and Barbour. Learn more about Shannon and her books at https://shannonvannatter.com and check out her real life romance blog at https://shannonvannatter.com/blog/.
Connect with Shannon~
Website | Inkslinker Blog | Facebook | Goodreads | Pinterest | Twitter
---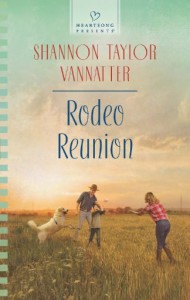 Giveaway Details:
Here's something special to commemorate the Heartsong Presents line since it's ending this month. Comment below to enter the drawing for a copy of Rodeo Reunion. Ten copies will be split among names drawn during the blog tour listed below from June 1 – July 1, 2015. One winner will receive a baseball-themed memory board personally crafted by Shannon. Winners will be revealed on Shannon's blog on July 22, 2015.