Books are The Best Christmas gift, wouldn't you agree? But with the proliferation of titles available now, it can be difficult deciding which book(s) to purchase. I hope to make your choice a little bit easier by spotlighting a book (or two) from several categories. Today I offer suggestions for Young Adult, Mystery/Suspense, and Speculative fiction readers. Check back on Thursday for my Romance and Women's Fiction recommendations.
Young Adult
THE LUNAR CHRONICLES SERIES
by Marissa Meyer
The Lunar Chronicles series by Marissa Meyer was my surprise read this year. For over a year, my daughter had been trying to convince me to read this young-adult sci-fi series that's a retelling of several fairy tale stories. Right. Why would I read that? Well, she finally succeeded when we took a nine-plus hour car ride to visit my sister, and my daughter found Cinder, book #1, on audiobook. Needless to say, once that book was finished, I rapidly read the remaining books in the series.
While not Christian fiction, I would definitely recommend the series for a Christian young adult audience. And I suggest you begin with Cinder, followed by Scarlet, Cress, and then Winter.
Mystery/Suspense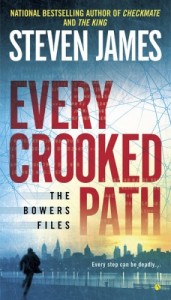 EVERY CROOKED PATH
The Bowers Files Series
by Steven James
A mysterious suicide and a series of abductions draw Patrick into a web of intrigue involving an international conspiracy where no one is who they appear to be and the stakes have never been higher.
Soon, Patrick discovers that the secret to stopping the Piper's current crime spree lies in unlocking answers from an eight-year-old cold case—and the only way to do that is by entering the terrifying world of the conspirators himself.
Dark, probing, and chilling, Every Crooked Path takes an unflinching look at the world of today's cybercrimes and delves into a parent's worst nightmare as it launches a new chapter of Patrick Bowers thrillers.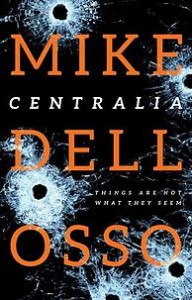 CENTRALIA
Jed Patrick Series, book #1
by Mike Dellosso
Peter Ryan wakes up on a typical morning only to find his house empty, his wife and daughter nowhere to be found. His world is shattered after a phone call to a friend confirms the impossible: his wife and daughter died in a car accident he does not remember. Haunted by faint memories and flashes of details, Peter becomes convinced that something isn't right and begins to question reality. When he discovers a note in his daughter's handwriting, strange memories begin to surface that cause him to second-guess nearly everything he once believed. Suddenly armed men show up at Peter's home, turning the mysterious puzzle of his past into a dangerous game of cat and mouse. On the run and unsure whom to trust, Peter has to discover what's real and what isn't . . . before he loses everything.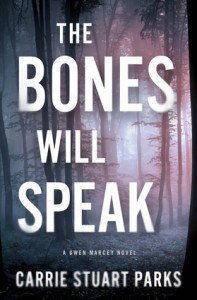 THE BONES WILL SPEAK
Gwen Marcey, book #2
by Carrie Stuart Parks
A killer with a penchant for torture has taken notice of forensic expert Gwen Marcey … and her daughter.
When Gwen Marcey's dog comes home with a human skull and then leads her to a cabin in the woods near her Montana home, she realizes there's a serial killer in her community. And when she finds a tortured young girl clinging to life on the cabin floor, she knows this killer is a lunatic.
Yet what unsettles Gwen most is that the victim looks uncannily like her daughter.
The search for the torturer leads back in time to a neo-Nazi bombing in Washington state—a bombing with only one connection to Montana: Gwen. The group has a race-not-grace model of salvation . . . and they've marked Gwen as a race traitor.
When it becomes clear that the killer has a score to settle, Gwen finds herself in a battle against time. She will have to use all of her forensic skills to find the killer before he can carry out his threat to destroy her—and the only family she has left.
Speculative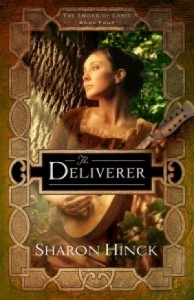 THE DELIVERER
The Sword of Lyric Series, book #4
by Sharon Hinck
A Lost Songkeeper Must Lead Her People to a Long Awaited Deliverer
Eager to serve the One, a young songkeeper travels to the dark and foreign nation of Hazor, but her confusing, rough-edged companion has lost his Restorer gifts. As danger rises against them both, she loses her freedom, her memories, and her hope. Now even the very music of her soul is threatened.
In our world, Susan Mitchell no longer feels at home in the carpool lane. Burdened by the unhealed scars from her trips through the portal, she fights to suppress her worry about her son, who remains out of contact in Lyric. But when a mysterious message hints Jake is in danger, she and her husband are swept away—to the place they least expect.
Clan rebellions. Lost Restorers. Has the One turned away, or will the face of the Deliverer bring light to the darkness?
ON THE RUN TO SAVE HER BABY
A pregnant cyborg and a teenage boy fight against intergalactic governments to protect the unborn in this novel from a Christy Award-nominated author.
Why is Zain pregnant? She belongs to the Hive, a collective of cyborgs who choose to live apart from the rest of human society. At times, the Hive rent out some of their females to produce tailor-made children for paying couples. But Zain is an engineer, not a breeder. When she finds herself separated from the Hive, she decides to find the person who she thinks ordered the baby. Surely they'll help her find her way home.
Matthew "Scorn" Nelson has spent the better part of his teenage years cracking computer systems, causing mischief and havoc wherever he can. But the night of his greatest triumph turned into a painful memory, one he wants to erase. But that night was also his first step on a road to faith. When Zain arrives on his doorstep, Scorn is horrified. What's he supposed to do with a pregnant teenage cyborg?
Unfortunately, he'll have to answer that question on the run. Zain's people want to reclaim her and terminate her pregnancy. And both the Ministrix and the Praesidium, two intergalactic governments in a constant state of cold war, want Zain's baby for their own reasons. Will their enemies run them down? Or will Zain find a new Hive for both her and her child?
---
Coming Soon …
The Coming Home Series ebook box set!
Get Pieces of Granite, Chain of Mercy, Memory Box Secrets, and Hungry for Home in one ebook for a ridiculously low price!
And don't you love this beautiful cover?! Another great one from George at Think-Cap Design Studios.