For the romance and women's fiction readers in your life, it's no surprise that I have a plethora of recommendations! You can't go wrong with any of the books listed below. If you're looking for young adult, speculative, or mystery/suspense, check out yesterday's post here.
Historical Romance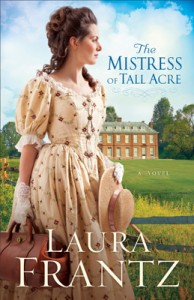 THE MISTRESS OF TALL ACRE
by Laura Frantz
The American Revolution is finally over, and Sophie Menzies is starved for good news. When her nearest neighbor, General Seamus Ogilvy, finally comes home to Tall Acre, she hopes it is a sign of better days to come. But the general is now a widower with a small daughter in desperate need of a mother. Nearly destitute, Sophie agrees to marry Seamus and become the mistress of Tall Acre in what seems a safe, sensible arrangement. But when a woman from the general's past returns without warning, the ties that bind this fledgling family together will be strained to the utmost. When all is said and done, who will be the rightful mistress of Tall Acre?
Triumph and tragedy, loyalty and betrayal–readers find it all in the rich pages of this newest historical novel from the talented pen of Laura Frantz. Her careful historical details immerse the reader in the story world, and her emotional writing and finely tuned characters never cease to enchant fans both old and new.
One final cry…"God almighty, help us!" and suddenly her world shifted violently, until a blinding collision scattered her mind and shook her bones. Then, the pain. The freezing water. And as all sensation drifted away, a hand reached for hers, before all faded into darkness…
Now she has awakened as though from some strange, suffocating dream in a warm and welcoming room she has never seen before, and tended to by kind, unfamiliar faces. But not all has been swept away. She recalls fragments of the accident. She remembers a baby. And a ring on her finger reminds her of a lie.
But most of all, there is a secret. And in this house of strangers she can trust no one but herself to keep it.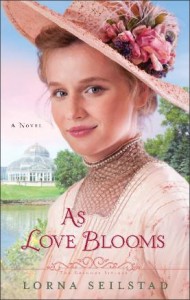 AS LOVE BLOOMS
The Gregory Sisters, book #3
Lorna Seilstad
Tessa Gregory is nothing if not tenacious. Denied a position as a horticulturalist at prestigious Como Park in Saint Paul, she is not above a little benevolent deception in order to get the park superintendent to change his mind and hire her. She plans to infiltrate the world of wealthy and influential people in hopes of drumming up financial support for a world-class conservatory. But before she can put those plans into action, she meets Reese King, a handsome gardener at Como Park–and a major distraction. Still, Reese might be the key to achieving her dream. But is his goal to help her . . . or to capture her heart?
Against a lush backdrop of early twentieth century Saint Paul, Minnesota, Lorna Seilstad weaves a sweet and sassy story that is sure to please. Tessa's young romance opens like a rose, stealing readers' hearts and filling their senses with the intoxicating fragrance of dreams come true.
Contemporary Romance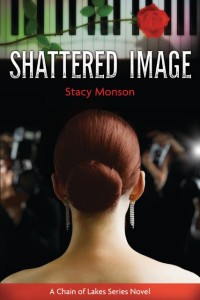 SHATTERED IMAGE
Chain of Lakes Series #1
by Stacy Monson
Kiera Simmons' career as a high-profile fashion model ends abruptly when a failed relationship nearly lands her in jail. Now she forges a quiet life helping teens understand their eternal value in a world saturated with the distorted messages of society.
Peter Theisen is on the fast track to everything the celebrity life promises with every step of his meteoric rise in the music world orchestrated by his ambitious manager.
Their sweet, unexpected romance is threatened by her past and his future, a life-changing diagnosis, and financial devastation. As they struggle to find their way back to each other, and to the One who matters most, the allure of wealth and fame may jeopardize everything.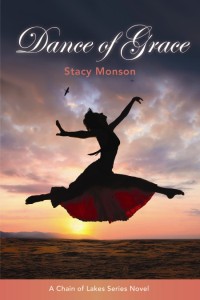 DANCE OF GRACE
Chain of Lakes Series #2
by Stacy Monson
In one unexpected moment, dancer Vanessa Jordan lost her family, her career, and her future. She blames God for destroying everything that mattered.
Kurt Wagner, an ex-con with a second chance at life and faith, aches to shed his past and see his dream of helping teens become reality.
The former dancer and the ex-con form an unlikely alliance to build River House, a safe haven for kids on the street. But when Kurt's past threatens his dreams and his life, Vanessa becomes a target as well.
It will take a stubborn love, the grace of God, and one courageous teen to keep the River House dream alive.
Women's Fiction
As a fire archeologist, preserving Yosemite National Park's natural and cultural resources is Jessica's job. As a wife and mother, preserving her family's legacy is her obsession. But when she discovers her husband's infidelity, betrayal's flames threaten her family and all she's fought to protect.
Haley Weaver, a sophomore in high school, is a daddy's girl. As she enters the throes of first love, timid yet intrigued, Haley also discovers her father's affair. Stunned and broken, Haley flees into the wilds of Yosemite National Park. If she can't trust her father, how can she trust her boyfriend—or even love itself?
When wildfire breaks out and Haley is missing, Jessica fears the worst. In a race against time, she searches for her daughter as she deals with the magnitude of what her husband's affair may cost her family. How can she go on if she doesn't find Haley in time?
And what will Jessica do to preserve the legacy that matters most?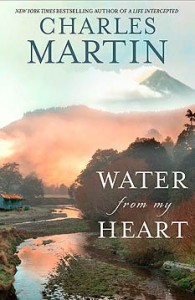 WATER FROM MY HEART
by Charles Martin
Charlie Finn had to grow up fast, living alone by age sixteen. Highly intelligent, he earned a life-changing scholarship to Harvard, where he learned how to survive and thrive on the outskirts of privileged society. That skill served him well in the cutthroat business world, as it does in more lucrative but dangerous ventures he now operates off the coast of Miami. Charlie tries to separate relationships from work. But when his choices produce devastating consequences, he sets out to right wrongs, traveling to Central America where he will meet those who have paid for his actions, including a woman and her young daughter. Will their fated encounter present Charlie with a way to seek the redemption he thought was impossible–and free his heart to love one woman as he never knew he could?
And of course, I can't forget my books …
Debbie Verhoeven is not your typical woman:
*She sacrificed a counseling career to be a full-time mother
*She'd rather pound a nail than round steak
*Oprah? No way! Give her ESPN any day
*Nothing could be more stressful than scrapbooking
Nothing, except …
a distressing diagnosis,
a husband who is pulling away,
and two older brothers who refuse to get along
When the counselor is caught in the middle, when she needs to be strong for those around her, who is left to be strong for her?
Manhattan businessman Richard Brooks was at the top of the world, drunk with success, wealth, and women, and he proudly lived that prodigal lifestyle, until one disastrous evening, when that world came crashing down.
Richard flees to Minneapolis where he repairs ancient boilers instead of solving corporate problems, and he's determined to live the solitary life he now deserves.
But Executive Sheila Peterson has other plans for the handsome custodian. Richard appears to be the perfect match for the no-strings-attached romance she's after, but she soon discovers that he's hiding more than the designer clothes in his closet.
Newlyweds Richard and Sheila Brooks have it all. Sheila is pregnant. Richard's business is flourishing. Their formerly broken lives have been mended, and life couldn't be better.
Or so they thought.
Just a few years ago, Richard had thrived in Manhattan's fast-paced business world, yet that's the very place he abandoned his faith. Now that his faith is restored, he never planned to return to that old life. But then the New York corporation that once rejected him calls, begging him to come back. Richard knows returning is unwise, but his gut is telling him to go.
Sheila yearns to have something from her childhood to pass on to her child, but when her parents abandoned her years ago, they took all remnants of her past with them. Then, out of the blue, her aging father calls, asking to be let back into her life. Her head screams "no", but her traitorous heart is saying "yes."
If Richard and Sheila answer these calls from their pasts, will they risk breaking what they've spent so much time mending?
After a troubling encounter with a pregnant teen, Sheila Peterson-Brooks hurries from the crisis pregnancy center into the frigid Minnesota winter where she is mugged and left for dead. After a frantic search, Richard, her husband, finds her, and the police quickly nab the mugger …
A hungry, homeless teen.
The brother of the pregnant girl Sheila had just counseled.
The girl pleads for her brother, and Sheila and Richard choose not to press charges. Instead, they open their home to the boy, a move that could cost them their possessions, and their hearts.
And, in the process, teach them the true meaning of home.
---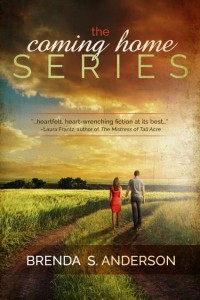 Coming Soon …
The Coming Home Series ebook Box Set
All four books in the Coming Home Series together in one ebook for a ridiculously low price! Stay tuned to my blog for updates!