Paperback winner: Dawn Ford
ebook winner: Billy Pipkin
*** Book Giveaway ***
See Contest Details Below

Back when I was becoming serious about writing, I joined American Christian Fiction Writers (ACFW) and was assigned to an amazing critique group that included author Jerri Ledford. Jerri helped me so much with those early stories, making me a much better writer. So I'm thrilled to welcome Jerri back to the blog today along with Kate Giveans, the heroine from Jerri's new book baby, Biloxi Blue!
But before I introduce Kate, here's the back cover blurb from Biloxi Blue ~
Kate Giveans returns to work after being shot to a new murder case and a hot new partner – Caleb Castille. Jack Roe has been promoted and he's working an internal case he can't share with Kate. Now, Kate and Caleb are trying to catch a murderer, but someone in the department is interfering with the investigation. Suspects keep turning up dead. And someone is stalking Kate. Can she catch the murderer before her stalker catches her? What secrets is Jack keeping? And is Caleb really who he appears to be?
Now let's chat with Kate ~
Kate, I understand you've just returned to work after being shot. How frightening! Is it too much to ask that you share a little about the experience?
Of course not. I can understand how people would be curios. To be honest, it happened so fast I barely remember it. One minute Jack – Jack was my partner then – and I were walking across a church parking lot and the next, I was on the ground.  I didn't even realize what had happened. I knew we were in danger and my instincts kicked in.
Oh my. That sounds so scary. But you're okay now?
(Small laugh.) I'm fine. I had 12 weeks off work, but I'm almost good as new.
You mentioned Jack – that's Jack Roe, right? He's your partner.
Yes, it's Jack Roe. But he's not my partner anymore. He's the Chief now.
And you and Jack have a relationship?
(She's picking at her nails.) It's complicated. That's all I want to say about that right now.
Okay. Well, how about your new partner? I hear that Caleb Castille is a fill-the-doorway kind of man. How's that relationship going.
Caleb's a big guy. He's got broad shoulders. And he's a decent partner, but I admit, I didn't want another partner. After Jack got promoted, I really just wanted to work on my own. I was surprised when they put Caleb with me.
You didn't want a new partner? Does that affect the way you and Caleb work together?
I guess it did at first, but we're good now. We get along well. He seems trustworthy, but the relationship is new, so I guess we'll see where it goes.
That sounds promising.
Hmmm…
Okay, let's change direction a little. I know you've had some difficulty with relationships in the Biloxi PD. Because of the death of your past partner. Are you still struggling to fit in?
I am. I just don't know if I'll ever gain these people's trust. Every time I think I've proven myself and that things will change, they don't. I don't know. I'm beginning to wonder if maybe I'm just not cut out for this line of work.
Really? Have you considered leaving homicide? Leaving the policework?
I have.
And?
And I don't know. I don't know what I would do. I don't know if this is what I even want to do.  I guess at some point I'll have to figure that out. Since Jack was promoted, things have changed. And not for the better. So, I have some decisions to make.
Sounds intriguing. One more question. Where do you think you'll be a year from now?
(Kate laughs.) If only I could see the future! I suppose the best way to answer that is to share a lesson that I've recently learned. Before you can move into the future, you have to let go of the past.
Meaning?
I think that's all I have to say.  Read the story. Then you'll understand.
Intrigued? Then purchase Biloxi Blue here: https://amzn.to/2gXYmyP
---
About Jerri Ledford ~
Growing up a military brat meant Jerri Ledford traveled a lot – and read a lot. It was only natural that her love of reading would eventually turn into a love of writing. From the first play that she wrote for neighborhood kids while her family was stationed on the military base at Guantanamo Bay, Cuba to her career writing fiction and non-fiction, Jerri has always had a love affair with words.
These days, Jerri spends much of her time as a Content Project Manager and fiction writer, but when she's not pounding away at the keyboard, she loves to hang out with her her partner, her grown children, and Sampson – the 80 lb. Bull Mastiff rescue she fell in love with.
Connect with Jerri ~
Facebook | Twitter | Instagram | Pinterest | Website | Email
Purchase Jerri's Fiction ~
Biloxi Blue | Biloxi Sunrise | A Biloxi Christmas
Giveaway Details ~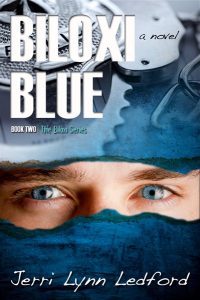 Jerri has graciously offered to give away one signed paperback copy and one ebook copy of  Biloxi Blue! To enter, answer the following question in the comment section below:
How would you feel about working alongside someone with whom you had a relationship?
Contest ends Monday, January 2, 2016 at midnight. Winner will be posted on Tuesday, January 3, 2016.