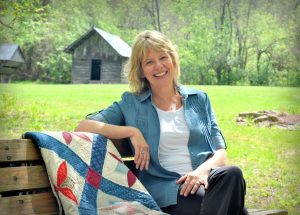 Back in 2009 I picked up a book by a then debut author, The Frontiersman's Daughter by Laura Frantz. As I typically gravitate toward contemporary works, I'm not certain what first drew me to the book, but I do know that once I read those first sentences, I was forever hooked as a Laura Frantz fan. Besides telling a compelling story with multi-faceted characters, besides creating vivid settings that place the reader right in the midst of the story, Laura's prose is some of the most exquisite in Christian fiction. Every sentence, every word is carefully chosen so that once strung together, the story reads like a symphonic masterpiece.
It's been over a year since Laura's last book came out, and like so many of her readers, I've been going through withdrawal. But that will end later today when the mail carrier delivers my copy of A Moonbow Night. (At least that's when Amazon tracking tells me it will be delivered …) I can't wait to immerse myself in this new story!
To pique your interest, here's the back cover blurb:
From the beloved author of The Frontiersman's Daughter and Courting Morrow Little comes a new Kentucky novel…
On the vast, uncharted Kentucky frontier of the 1770s, Temperance Tucker has learned to be fleet of foot, accurate with her rifle, and silent about the past. But her family secrets complicate her growing attraction to a handsome Virginia land surveyor with a harsh history of his own. Will the hurts and hardships of the past prevent them from a fulfilling future?
Laura is so much more than a weaver of beautiful tales, she's also a tremendous supporter of fellow writers. From my very first release, Laura has supported and encouraged my writing, and even penned a cherished endorsement for Hungry for Home, my Coming Home Series finale.
So naturally, I'm thrilled to have Laura stop by the blog today to answer a few questions.
Laura, thank you for visiting today! And congratulations on your new book baby! What do you hope your readers take away from A Moonbow Night?
This is my most historical novel to date and showcases Kentucky's very turbulent frontier history. It's far more a historical than a romance. I think Publishers Weekly said it best: ". . . the story rewards patience, unfolding with precision and action, showcasing the triumph of the human heart and spirit in the face of seemingly overwhelming odds."
Do you see yourself in any of your characters?
Sadly enough, the villain! Said villain's grumbling, comfort-seeking, self-serving spirit are all too relatable in my fleshly nature. I won't tell you just who the villain is. I hope you read and find out. He inspires me to change with the Lord's gracious, ongoing help.
What's on your reading list right now?
I'm slowly making my way through Michael Phillip's new Secrets of the Shetlands series beginning with The Inheritance.  I read a few chapters at bedtime and am really savoring the story. It's one of wonderful depth and has a heroic Scottish laird, to boot. Since Phillips edited the books of my literary hero, George MacDonald, making them more accessible to today's readers, he's my hero, too.
And the most important question: milk chocolate, dark chocolate, white chocolate, or no chocolate?
Milk! But beloved author friend, the amazing Tamera Leigh, makes the best hot chocolate I've ever tasted using dark!
---
About Laura ~
Laura Frantz is passionate about all things historical, particularly the 18th-century, and writes her manuscripts in longhand first. Her stories often incorporate Scottish themes that reflect her family heritage. She is a direct descendant of George Hume, Wedderburn Castle, Berwickshire, Scotland, who was exiled to the American colonies for his role in the Jacobite Rebellion of 1715, settled in Virginia, and is credited with teaching George Washington surveying in the years 1748-1750. Frantz lives and writes in a log cabin in the heart of Kentucky.
Connect with Laura ~
Facebook | Pinterest | Instagram
Purchase Laura's books ~
A Moonbow Night | The Mistress of Tall Acre
Love's Reckoning | Love's Awakening | Love's Fortune
The Colonel's Lady | Courting Morrow Little | The Frontiersman's Daughter