Congratulations, Deanne P!
Winner of Planting Hope Book Giveaway!
Happy Release Day, Planting Hope!
Welcome Everyone! Thank you for joining in my celebration of Planting Hope's Book Birthday! As always, I have plenty of treats on hand, including several varieties of chocolate! My hero, Luke, who owns a candy store, insisted on only serving the best! The credit for decorating my tables with beautiful floral creations goes to my heroine, Jess, who has a gift for creating eye-catching gardens.
And, what's a celebration without a giveaway?! One that would make for a delightfully romantic evening, in my humble opinion.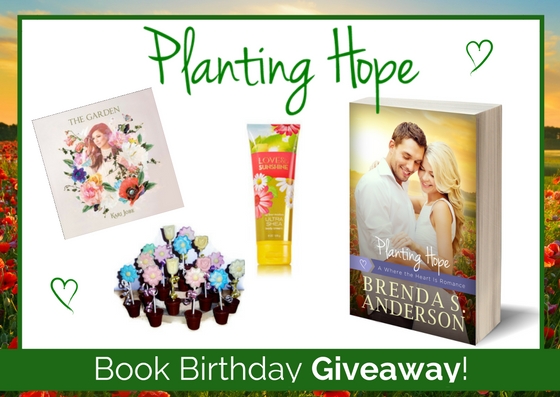 The giveaway  includes:
So, how do you enter to win this romance-worthy prize? Just use the Rafflecopter form below which includes answering both of these questions in the comments section:
What is your favorite type of chocolate?
What is your favorite flower?
Naturally, my favorite chocolate comes from Great! Lakes Candy Kitchen, a quaint, family-owned candy store along Lake Superior's North Shore in Minnesota that was the inspiration for Planting Hope.
My favorite flower is the lilac, the flower that ushers in gorgeous spring fragrance!
Thank you for celebrating with me!
~ Brenda
When flowers and chocolate collide, romance is sure to bloom!
Family has always been the one constant in Jess Beaumont's messy life, so when her parents separate, she puts "Operation: Planting Hope" into action. All she has to do is recreate the circumstances that helped her parents fall in love. Unfortunately, that includes the daunting task of restoring the family cabin's gardens. When the handsome candy store owner shows up to help, she's certain she has all the elements required for her parents' love to bloom again. After all, flowers and chocolate are the perfect ingredients for romance.
Luke Harrison has spent his life trying to win his father's approval, and a promotion in the family land development business would be a step in that direction. But when he inherits Gran's candy store, his dreams of being promoted start melting away. Then his dad dangles a Vice President position in front of Luke, with one caveat—acquire the land on both sides of Gran's store within five months, including the Beaumont cabin, and the promotion is his.
What at first seemed a simple challenge for Luke becomes a tangled mess. Buying the Beaumont cabin and land will nip his blossoming romance with Jess in the bud. Even worse, it could end her parents' marriage. But if he doesn't succeed, he could be trading in his corner office for the corner candy store.
Purchase Planting Hope ~
Amazon | B&N | iTunes | Kobo | Other
Giveaway Details ~
To win (1) autographed copy of PLANTING HOPE, (1) Kari Jobe "In the Garden" CD, (1) Edible Flower Garden, & (1) 8 oz Love & Sunshine Body Cream, fill in the Rafflecopter form below. Contest ends at 12:00 am on September 26 (midnight on February 25). Contest is open to residents of the continental US only. Must be 18 years old to enter.