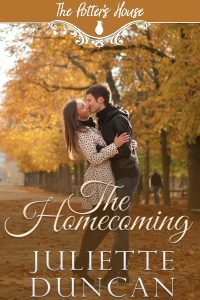 Last week I told you about The Potter's House Books series I'm blessed to be a part of (See here), and today the first book, Juliette Duncan's The Homecoming, is up for pre-order! The pre-order price is only 99¢, so order your copy now! The book is also in Kindle Unlimited.
Here's more about The Homecoming:
Can she surrender a life of fame and fortune to find true love?
After leaving the small sleepy town of Shelton for the big city, Kayla McCormack struck it big time in the music industry. Her new life gave her everything she needed and wanted… fame, fortune, and fun. She even snagged a famous movie star for a boyfriend.
Just one problem – he's married, and her conservative Christian parents don't approve.
Dane Carmichael has had a crush on Kayla since she performed in the school Talent Show at age ten. Now carrying a war wound, Dane's life revolves around the group of young teens he mentors at church, instilling in them the importance of remaining pure and following Jesus and not the world.
When Kayla rushes home to visit her father after receiving devastating news, she and Dane reconnect. His simple faith and life fascinate but scare her.
Kayla is challenged to assess her chosen lifestyle, but she's also harboring a secret. She can't forgive herself for what she did, so how can she expect God to? As He gently draws her to Himself, molding and shaping her, just like Dane does with his pots, she begins to understand how forgiving, loving and kind He really is.
Let this Christian romance warm your heart and draw you close to the One who loves you without condition.
The Homecoming is Book 1 of "The Potter's House Books", stories of love, hope, redemption, and second chances.
Pre-Order The Homecoming ~
About Juliette Duncan ~
Juliette Duncan is passionate about writing real-life Christian inspirational romances that will touch her readers' hearts and make a difference in their lives. Drawing on her own often challenging real-life experiences, Juliette writes deeply emotional stories that highlight God's amazing love and faithfulness, for which she's eternally grateful.
Juliette lives in Brisbane, Australia. She and her husband have five adult children and seven grandchildren whom they love dearly, as well as an elderly long-haired dachshund and a little black cat. When not writing, Juliette and her husband love exploring the great outdoors.
Receive a free ebook by signing up for her email newsletter at www.julietteduncan.com. You'll also be notified of new releases and special offers.
Connect with Potter's House Books ~
Website | Facebook Reader Group | Facebook | Amazon