I'm so excited to share with you this amazing project I've been invited to join: The Potter's House Series! We're seven authors who love Jesus, and over the next year we're bringing twenty-one God-honoring stories of hope, redemption, and second chances to our readers. Starting on March 27, Potter's House authors will release a new story every two weeks for the first several books.  The Homecoming by Juliette Duncan goes up for pre-order on February 27! Each book is a standalone story.
And …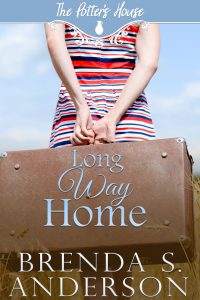 Check out the gorgeous cover for Long Way Home, my first book in the series. Long Way Home will release on May 8, 2018. For those of you who enjoyed my Coming Home Series and hated to see it end, you'll be re-introduced to several familiar characters—but that's all I'm going to say about it at the moment. 🙂 You'll have to stay tuned to my blog, or sign up for my newsletter (Subscribe!)  to make certain you don't miss anything!
Also, I soon plan to release Coming Home, a short story that will bridge the Coming Home Series to my stories in the Potter's House Series. Blog and newsletter subscribers will be the first to know about the release.
To learn  more about the Potter's House Series, check out this video:
Potter's House Authors:
Get Involved!
I'm always looking for Book Booster Team Members. Check it out here (Brenda's Book Boosters) and, if interested, please fill out the Google Form at the bottom of the Booster page.
Join The Potter's House Reading Group on Facebook: Potter's House Reader's Group
Bookmark the Potter's House Website and check in frequently: Website
Like the Potter's House Series on Facebook: Potter's House Series
Pre-Order each book as it comes available. Each book will be available for purchase at just 99c during the pre-order period and for one week following its release before it reverts to full price. Each book will also be free to read on Kindle Unlimited.
Watch the video and share the good news with your friends.