Spring Fever Giveaway with Shannon Taylor Vannatter
(to enter, fill in Rafflecopter form below)
Today is the Final Day to Enter!
If you missed a Word of the Day,
see below for links to all the posts.
I had the privilege of meeting Shannon several years ago when she and I were new writers hoping to get published someday. We were placed in an ACFW critique group together, along with Lorna Seilstad and Jerri Lynn Ledford. Now Shannon's published more books than I can count, and she keeps putting out stories romance readers love!
Her soon-to-be-released book, Counting on the Cowboy, will be another winner, I'm sure. Now just how does Shannon wrangle together all her characters? I'll let her tell you:
Wrangling Devree & Brock
by Shannon Taylor Vannatter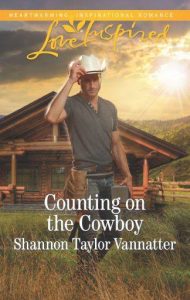 Counting on the Cowboy is the fourth and final book in my Texas Cowboys series. Completing a series is always bittersweet. I love my characters and hate to say goodbye to them, but I'm glad they all got their happily-ever-afters rooted in God's love.
Devree Malone is so me, back when my parents moved from a suburb of Atlanta to rural Arkansas. I was twelve and it was major culture shock. The nearest neighbor girl my age lived a quarter of a mile away and I was used to neighborhoods. I hated all things farm. The animals were stupid, stinky, and kind of scary.
Though Devree is in her late twenties, this is the place Devree she's in. She grew up in the country in Aubrey, Texas, but longed for city life. She fled for Dallas the first chance she could and built a successful wedding planning business. Though her professional life soared, her personal life didn't.
What would get a genuine city girl to move to the country? Her sister. After a still birth last year, her sister is in the final month of her second pregnancy. A high-risk pregnancy with symptoms mirroring the first which ended in tragedy. Devree comes to her sister's dude ranch in Bandera, Texas expecting to fill in as activities director, keep an eye on her sister, and plan one last wedding there before she revamps her business into event planning. Instead, she ends up decorating cabins with a handsome cowboy.
Brock McBride is running from his past and applies for the handyman position at the ranch where his dad held the job until his death. A city girl is the last thing he wants to contend with. Especially since his mom and his ex-fiancée both abandoned him. And both were city girls. When his job description gets tweaked, he gets stuck helping Devree prepare for the wedding and putting the finishing touches on the guest ranch's newly built cabins. He loves the country. And she can't wait to leave it.
Country life grew on me. I'm still not excited about farm animals. They're still stupid, stinky, and slightly scary. I really hate cows after getting chased by one when I was nine, and one this past summer. And I really hate chickens after being forced to catch them in my teens. Horses are okay, but they're really big and I like a fence between me and them.
But I love the peacefulness, hearing the frogs and crickets at night, and not having neighbors too close. The net says the population of our town is 586. I'm not sure I believe that. In 2000, it was under 100. We're eight miles from a city of 7000. These days, that would be way too big for me to live in.
With Devree and Brock, I had to decide if she'd soften toward country life like me. Or if he'd be willing to follow her to the city. They were both stubborn, but it was fun wrangling them, and I hope readers enjoy reading their story as much as I loved writing it.
Counting on the Cowboy comes out on March 20. Check out that cover! Beautiful, isn't it?
More about Counting on the Cowboy ~
Ranching is his whole life…
until he meets one special city girl
Texas Cowboy Brock McBride knows better than to fall for a city girl. She'll leave and break his heart—just like his ex-fiancée did. But his job at Chasing Eden Dude Ranch requires working alongside Dallas wedding planner Devree Malone. And despite fierce resistance, he's falling hard. Yet with Devree's business back in the city, can he convince her she's found her home…with him?
Purchase Counting on the Cowboy ~
More about Shannon ~
Award winning author, Shannon Taylor Vannatter writes contemporary Christian cowboy romance and has over a dozen published titles. A romance reader since her teens, she hopes to entertain Christian women and plant seeds in the non-believer's heart as she demonstrates that love doesn't conquer all—Jesus does.
She gleans fodder for her fiction in rural Arkansas where she spent her teenage summers working the concession stand with her rodeo announcing dad and married a Texan who morphed into a pastor. In her spare time, she loves hanging out with her husband and son, flea marketing, and doing craft projects.
Connect with Shannon ~
Website | Blog |  Facebook | Goodreads | Pinterest | Twitter | Amazon Author Page
*** Free e-copy of  Rodeo Dust for signing up for newsletter Here. ***
Final Day to enter the #SpringFeverGiveaway! Learn how @stvauthor wrangles her characters in her upcoming release, Counting on the Cowboy. #ChristFic #BookGiveaway Click To Tweet
Word of the Day: Cowboy
To make certain you haven't missed a Word of the Day, click the author names below for their blog post:
Barbara Ellen Brink
Brenda S. Anderson
Lindsey Brackett
Johnnie Alexander
Joy DeKok
Dawn Ford
Kimberly Rose Johnson
Regina Rudd Merrick
Stacy Monson