The Red Journal Cover Reveal + Pre-Order!
Plus 99¢ Book Sale!

The Red Journal, the third book in The Mosaic Collection series is now available for pre-order, and for only 99¢! Check out this beautiful cover!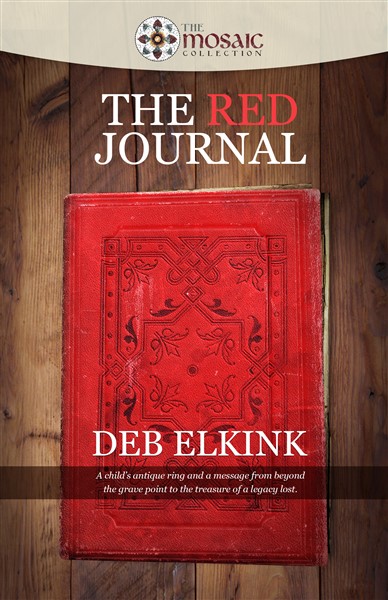 Pre-Order Here: https://www.amazon.com/dp/B07WGWQZ3Z/
About THE RED JOURNAL ~
Flirty globetrotter Sybil badgers her friend Libby to travel along in seeking out the world's "sacred places"—a monastery in Japan, a mountaintop in Africa, a mosque in Istanbul. Her footloose wandering far from family values costs her more than money.
But Libby can't afford to travel, and she's plagued by a different kind of restlessness. Grieving the recent death of the grandmother who raised her in their inner-city Minneapolis tenement now slated for demolition, Libby faces homelessness in both heart and habitation.
When Libby discovers a cryptic message from beyond the grave and an antique ring pointing to a mystery in an inner room of a mansion museum in North Dakota, she sets out on a quest of her own for the meaning of heritage and home.
Pre-Order: https://www.amazon.com/dp/B07WGWQZ3Z/
More from The Mosaic Collection ~
When Mountains Sing by Stacy Monson – Kindle | Paperback | Kindle Unlimited
Unbound by Eleanor Bertin – Pre-Order
Coming Soon!
A Beautiful Mess by Brenda S. Anderson
Cover reveal and pre-order: September 25! Watch for the reveal on my blog and newsletter.
Want to be the first to see the cover? Sign up for my newsletter: Subscribe
Want to read & review A Beautiful Mess? Sign up to be an influencer! Learn more here: Brenda's Book Boosters
Book Sale!

Stories of Hope, Redemption, and Second Chances
These Potter's House Book box sets are only 99¢ each! Each set contains 3 books, and all are available to read for FREE on Kindle Unlimited.
Sale lasts for a limited time only.
From Author Juliette Duncan – Purchase
From Author Brenda S. Anderson – Purchase
From Author Mary Manners –Purchase
From Author Kristen M. Fraser – Purchase
Recommended Reading ~

Are you searching for your next Contemporary Christian Fiction Kindle Unlimited read? Click below to discover your next favorite series today, and fill up your Kindle Unlimited subscription with these great FIRST books in series! If you don't have Kindle Unlimited, subscribe on Amazon.