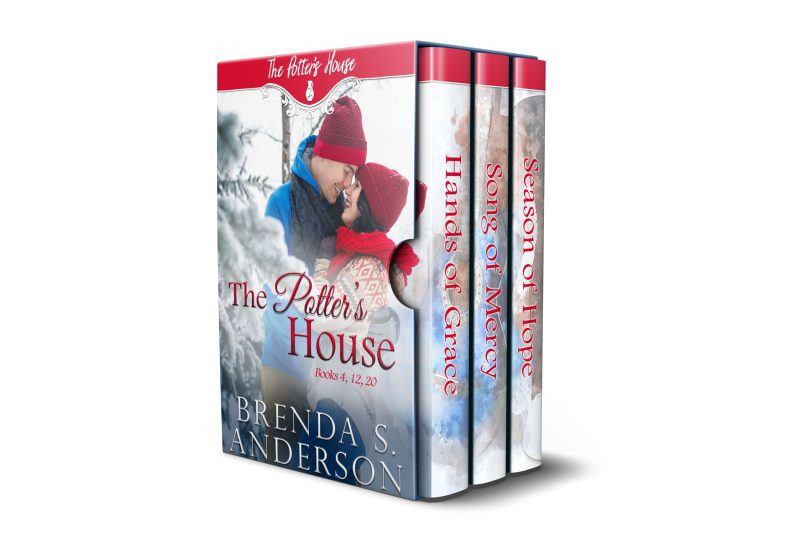 Stories of the Master Potter piecing together broken lives into a beautiful masterpiece!
This special edition box set contains Brenda S. Anderson's three books in The Potter's House Books (Two) collection.
Order Now!
About the Book
Hands of Grace
She's always looked for love in the wrong places. He wants nothing to do with love.
Rita Dunlap has a history of looking for love in the wrong places, but this time, she's got it right. Her heart surgeon boyfriend has hinted at proposing, along with letting her sickly mother live with them once they're married.
But then she learns her boyfriend isn't a doctor at all, but a drug trafficker who's involved her in his scheme. Not only did she get love wrong, but she's unwittingly placed both her and her mother's lives in danger.
Love is the last thing on Officer Daniel Winter's mind. Twice-burned, he's locked up his heart for good. But when he goes undercover as a handyman to protect the cute and quirky Rita Dunlap, he discovers he's not only guarding her and her mother, but his heart as well.
Rita wants to trust Daniel, wants to believe his work around her house doesn't come with a price, but she'll need to let go of her past mistakes to open her heart to the future.
Song of Mercy
Her insecurity led to shattered relationships and a fractured faith. Can her newfound confidence restore what was broken?
Popular BE BOLD & SASSI vlogger Stephenie Winter used to be insecure, but that cost her a long-term relationship, her self-respect, and her faith. Since then she's learned to speak up, no matter the cost. So, when she spots an older man filming children at a playground, she can't remain silent. What better way to warn the neighborhood than sharing her vlog across social media?
Worship leader Kyle Stevens is starting over. Now a single dad, he reluctantly moves into a twin home owned by his once estranged father. When his dad is accused of stalking local children, Kyle sets out to restore his reputation. He's shocked to learn that the person responsible for the accusation is none other than his ex-girlfriend, Stephenie Winter, a woman he wronged years ago, sparking his own downward spiral.
Stephenie begins to wonder if she's made a big mistake, but the vlog has already gone viral, smearing the character of a possibly innocent man. Only by working together can Stephenie and Kyle restore his reputation.
Can they restore their shattered relationship as well?
Season of Hope
When a shocking revelation shatters her family and her faith, will truth prevail and mend what was broken?
Life is good for Ronnie Coborn.
She's newly married to a man who loves her and dotes on her daughter. A man handpicked by Ronnie's father, a popular pastor at a megachurch who's been married to her mother for forty years.
Yes, life is good.
Until a shocking revelation exposes the fact that everything in her idyllic life–her marriage, family, and faith–is based on a lie.
Read these contemporary Christian novellas today and be inspired by these stories of "Hope, Redemption, and Second Chances."
Other Books in "The Potter's House Books (Two)"
Disclosure of Material Connection: Some of the links in the page above are "affiliate links." This means if you click on the link and purchase the item, I will receive an affiliate commission. I am disclosing this in accordance with the Federal Trade Commission's
16 CFR, Part 255
: "Guides Concerning the Use of Endorsements and Testimonials in Advertising."