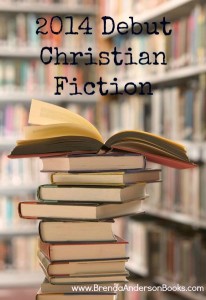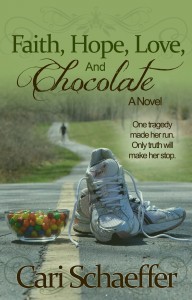 FAITH, HOPE, LOVE, AND CHOCOLATE
by Cari Schaeffer
Run, run, run…

Run away. That's what Faith Strauss has done for twenty years. She was destroyed by one tragic event. An event so horrific, she didn't share it with anyone, not even her husband. She buried it deep inside, where it can't hurt anyone.

If God is good, then where was He? Why didn't He stop it? How can she trust Him ever again?

Run, run, run…

She's not good enough. Never has been. Never will be. She could lose it all again, if she's not careful. She married, had children, and carved out a life for herself. But Fear is her ever-present companion, always reminding her never to reach too far, or too high.

Run, run, run…

God has another plan. A plan that she never saw, even though she has walked it her entire life. Will the unexpected exposure of her secret and the truth behind it restore her or destroy her all over again?

It's time to stop running.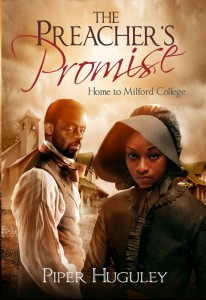 THE PREACHER'S PROMISE
(Home to Milford College #1)
by Piper Huguley
Liliaceae Publishers
1866 – Oberlin, Ohio
Devastated by her father's death days after her triumphant graduation from Oberlin College, Amanda Stewart is all alone in the world. Her father's unscrupulous business partner offers her an indecent proposal to earn a living. Instead, to fulfill a promise she made to her father, she resolves to start a school to educate and uplift their race. Sorting through her father's papers, she discovers he had carried on a mysterious correspondence with a plantation in Milford, Georgia. She determines to start her teaching work with the formerly enslaved. However, when she arrives, the mayor tells her to leave. There's no where for her to go.

Virgil Smithson, Milford's mayor, blacksmith and sometimes preacher man with a gift for fiery oratory, doesn't want anything to do with a snobby schoolteacher from up North. On top of everything else, the schoolteacher lady has a will hard enough to match the iron he forges. He must organize his fellow formerly enslaved citizens into a new town and raise his young daughter alone. Still, his troubled past haunts him. He cannot forget the promise he made to his daughter's mother as she died—that their child would learn to read and write. If only he didn't have secrets that the new schoolteacher seems determined to uncover.

To keep THE PREACHER'S PROMISE, Amanda and Virgil must put aside their enmity, unite for the sake of a newly-created community in a troubling age, and do things they never imagined. In the aftermath of the flood that was the Civil War, God set his bow upon the earth to show love and understanding for humankind. To reflect God's promise, these combatants must put aside their differences and come together–somehow.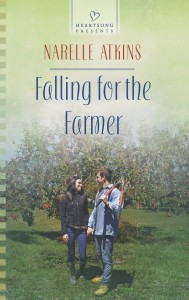 FALLING FOR THE FARMER
by Narelle Atkins
Love Inspired Heartsong Presents
And she's incredibly grateful when Jack Bradley offers her a job on his apple farm. Working side by side in the orchards with her best friend's brother seems like the perfect way to get over her disastrous engagement. Until Kate finds herself falling hard for the handsome farmer.

Jack Bradley knows city-girl Kate isn't here to stay. Yet suddenly he's imagining a life with her in the country. When Kate considers going back to the city, can Jack find a way to show her that her real home is here on the farm, by his side?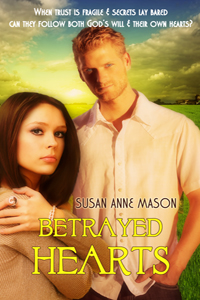 BETRAYED HEARTS
(Rainbow Falls Trilogy #1)
by Susan Anne Mason
Pelican Ventures Book Group-White Rose Publishing
Lily Draper comes to Rainbow Falls in search of her biological sister, the only blood relative she has left. Emotionally scarred by her preacher father, Lily avoids religion at all cost. Her new landlord, an aspiring minister, soon has her questioning her views. Can she learn to trust Nick's heart or will her sordid past destroy their love?

Nick Logan hopes to take over for the retiring minister who has groomed Nick for the job. But Reverend Ted seems to feel the position requires Nick to marry an upstanding woman, namely Ted's niece. When Nick finds himself falling in love with Lily Draper, the woman least likely to become a minister's wife, his problems escalate. And when Reverend Ted gives him an ultimatum, Nick faces an impossible choice.

Can he accept God's will and still find a place for Lily in his life?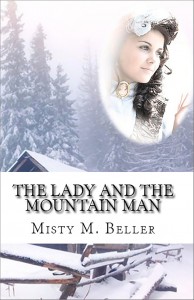 THE LADY AND THE MOUNTAIN MAN
by Misty M. Beller
Leah Townsend, a recently orphaned heiress, flees Richmond after discovering her fiancé's plot to kill her after their wedding. She needs a safe place to hide, and finds herself accepting a newspaper marriage proposal from a God-fearing young rancher in the Montana Territory. But when Leah arrives at the mountain ranch, she learns her intended husband was killed by a grizzly, leaving behind a bitter older brother and a spunky younger sister.

When Gideon Bryant finds a city girl standing in his log cabin, his first thought is to send her back where she came from. He's lost too many people to the wild elements of these mountains––his parents, his wife, and now his brother. His love for this untamed land lives on, but he's determined not to open his heart to another person.

But when an accident forces Leah to stay at the ranch for seven more months, can Gideon protect his heart from a love he doesn't want? Has Leah really escaped the men who seek her life?
~*~*~
Tweet – #DebChristFic
Vote for your favorite 2014 Debut Christian Fiction at: Goodreads Debut Author List
2014 Debut Christian Fiction Part 1 | Part 2 | Part 3 | Part 4 | Part 5 | Part 6 | Part 7